Former governor of Lagos State, Asiwaju Bola Tinubu, has lamented the insensitivity of the Oyo State Government to the basic needs of the people, saying the government has failed to deliver democratic dividends to its people.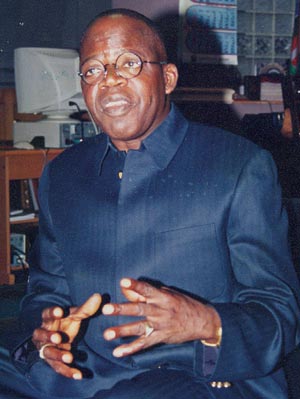 Tinubu disclosed this at Omio-Adio under Iddo Local Government Area during the official commissioning of a cottage hospital built by legal luminary, Chief Adeniyi Akintola, for the community.
The cost of the hospital was put at N70 million and was donated to the Baptist Church.
Tinubu described as an act of irresponsibility the state government's refusal to provide adequate medical care for its people, stressing that absence of good health would result in poor life.
"To every good government, the people must be its cornerstone. It is sad that for twenty miles radius, there is no single community health centre or any type of health centre that can cater for mother and a child; and you claim that you have a government in this state. If I must be sincere with you, you don't have a government in Oyo State," the former Lagos State governor declared.
Tinubu pointed out that "there is no community in Lagos that is not feeling the presence of government."
He tasked Nigerians to question their leaders on how they are spending their money, adding that without transparency, accountability and good governance, there cannot be any meaningful development.
Tinubu asked: "Where is the allocation of the local governments? How are they spending it? I call on the Oyo State Government to do better, otherwise we will soon send them away."
The chairman of the occasion, former Attorney-General of the Federation, Justice Muhammadu Lawal Uwais, lauded Chief Akintola for donating a hospital to his community.
He described Akintola as a philanthropist and a kind-hearted person whose contributions would not be forgotten in the judiciary, politics and humanity.
Uwais traced the genesis of cottage hospitals to England, saying that the first cottage hospital was established in 1827, to provide free medical services for common people.
According to him, between 1859 and 1866, cottage hospitals had risen to sixteen.
Uwais affirmed that though there were community hospitals established by the Nigerian government, individuals should complement government effort.
Dignitaries present at the occasion included the present and past President, Nigerian Bar Association (NBA), Oluwarotimi Akeredolu, SAN and Chief Wole Olanipekun, SAN, rspectively; Oyo State Chief Judge, Justice Teju Adeniji Badejoko; Ekarun of Ibadanland, High Chief Olufemi Olaifa, who represented the Olubadan of Ibadanland, Oba Samuel Odulana Odugade 1; former Nigeria's ambassador to Ghana, Mrs. Ronke Adefowope; a business mogul, Chief Kola Daisi; Oyo State Chairman of the Nigerian Labour Congress (NLC), Comrade Bashiru Apapa; Alhaji Yusuff Akande, among others.
—Gbenro Adesina/Ibadan
Load more