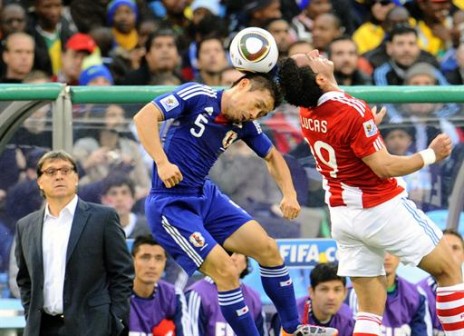 Spain and Paraguay will meet in the quarter finals after Tuesday's second-round action in South Africa.
Whoever gets through the next phase has either Argentina or Germany awaiting them in the semi-finals.
Spain battle past Iberian neighbours
A red-hot David Villa scored his fourth goal of the World Cup to fire European champions Spain past Iberian arch-rivals Portugal 1-0 on Tuesday and into quarter-final clash against Paraguay.
The Barcelona striker pounced in the 63rd minute of an absorbing encounter that saw plenty of chances and Portugal's Ricardo Costa sent off, chipping a rebound over goalkeeper Eduardo after his first shot was saved.
The goalkeeper did well to fist it away and he was in action again soon after with Villa cutting in from the left and fizzing a shot on target.
Portugal were all over the place and Villa rifled another goal-bound in the sixth minute, with Eduardo palming it to safety as he again came to the rescue.
Portugal's record of not conceding a goal in South Africa was looking decidedly shaky and Xavi troubled them again by turning and whipping a shot over the bar from a quickly taken corner.
Portugal were in the hunt in a finely poised game and they almost broke the deadlock early in the second half when Carlos Puyol got his knee in the way of a Almeida cross and it looped over Casillas' head and shaved the post.
The match started opening up but it was game over for Liverpool's Torres, who was hauled off after 58 minutes with Fernando Llorente replacing him and he almost made a spectacular entrance, heading straight at Eduardo.
Llorente seemed to spark Spain into life and seconds later Villa saw a powerful shot squirm past the post before the Barcelona striker demonstrated why he is one of the best in the business.
After some quickfire passes on the edge of the box he found space on the left and while his first shot was saved, Villa pounced on the rebound to chip it into the net.
Sergio Ramos nearly made it 2-0 just minutes later with an under-pressure Eduardo just getting his fingertips to a powerful shot to turn it behind for a corner.
Another ferocious Villa drive stung the goalkeepers' palms with 13 minutes left as Spain turned up the heat before Portugal's misery was completed when Costa was given a straight red card for elbowing Joan Capdevila.
Portugal coach Carlos Queiroz admitted: "Spain had the better chances and I think, sadly, they deserved to win."
Paraguay beat Japan on penalties
Paraguay beat Japan 5-3 on penalties on Tuesday to reach the World Cup quarter-finals and book a meeting with Spain.
After the last 16 tie had ended 0-0 after 90 minutes and extra-time,
Oscar Cardozo netted the winning kick after Yuichi Komano missed Japan's third kick to send the Paraguayans through to the last eight for the first time in their history.
But despite their negative approach and defeat, Japan coach Takeshi Okada insisted he was proud of his team and took full responsibility for the failure.
"In terms of how we played I have no regrets at all. The players were wonderful, really wonderful and I'm truly proud," he said.
"They represented Japan and also Asia as a whole and they played until the end so I'm proud of them.
"I was not able to make them win, that's my responsibility, I did not make them eager enough."
Paraguay have waited a long time to achieve a quarter-final place in the World Cup. Prior knockout setbacks came at the hands of Europe's elite. England routed Paraguay 3-0 in 1986 while hosts France eliminated the South Americans in 1998 with the World's Cup's first golden goal by Laurent Blanc. In 2002, Germany sent La Albirroja (the White and Red) off home with a goal two minutes from the final whistle.
The Paraguay victory also means four of eight World Cup semi-finalists are from South America, with the possibility that Argentina, Brazil, Uruguay and Paraguay could create an all South American World Cup final four.
Load more