The Lagos State House of Assembly, South-West Nigeria, has frustrated the move by the Ministry of Transportation to stop commercial motorcycle riders, popularly called okada, from carrying pregnant women, children of school age and women with children stapped on their backs.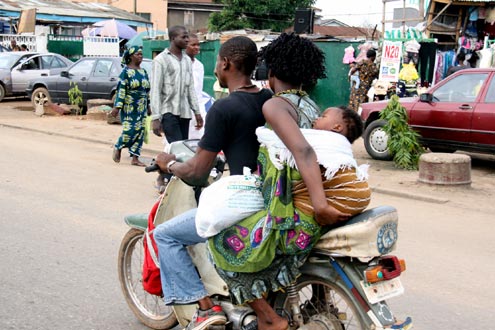 The lawmakers, while complaining that the Ministry did not consult with the House before taking such decision, also said the enforcement which was supposed to begin from tomorrow should be stopped forthwith.
They, however, asked the ministry to forward any proposal to that effect to the House for consideration.
The lawmakers further asked the Commissioner to stop officials of his ministry and the Task force officials from arresting riders arbitrarily while accusing officials of  the Lagos State Traffic Management Authority (LASTMA) of corruption.
While reacting, the State Commissioner for Transportation, Professor Bamidele Badejo, said the motorcycle operators had become a menace to the state government.
He further said that several motorcycles have been impounded but that the owners have not come to retrieve them because of the ease of procuring the bikes.
—Eromosele Ebhomele
Load more