Following the recent free-for-all in the House of Representatives over allegations of corruption, the National Conscience Party (NCP) has called for the resignation of the Speaker, Dimeji Bankole and other principal officers of the House, with immediate effect.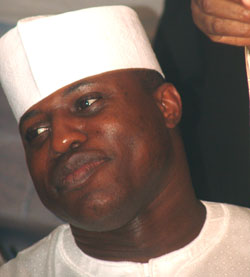 In a statement, the party condemned the decision of the House to suspend members of the Group of Eleven for the remaining part of the legislative calender, describing it as an overkill and an attempt by the House to protect the Speaker and his cohorts from prosecution.
NCP stated further that the decision will leave the constituencies these lawmakers represent in Nigeria unprotected and denied of representation in the House.
It noted that Hon. Olubunmi Etteh, the former Speaker, was removed from office for an offence far less than those being alleged against Dimeji Bankole and his principal officers.
The party admonished members of the House to redeem their image and perform the job for which they were elected.
The party also asked the House to tow the line of their senior colleagues in the Senate who have called for investigation into an alleged increase in their allowances by also investigating the misappropriation of the N9 billion alleged by the Group of Eleven.
The party called on President Goodluck Jonathan to mandate the anti-graft agencies to commence full investigation on the alleged misappropriation of the money by the House leadership.
—Michael-Abimboye, jnr
Load more