The factory of De United Foods at Idiroko Road, Otta, Ogun State, Nigeria, where popular Indomie Noodles is produced, has been shut down in the wake of the workers' protest over the alleged inhuman treatment being meted to them by the management.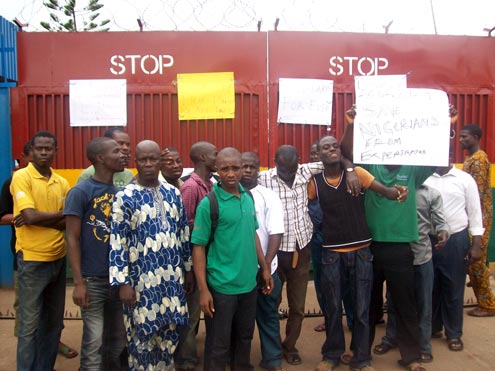 Dozens of workers yesterday were locked out of the company premises as they protested the planned retrenchment of more than 200 of them.
The factory remained sealed this morning with heavy presence of policemen invited by the management to maintain order.
The workers who spoke to P.M NEWS said that the management had in a little more than a year adopted the policy of replacing full-time workers with contract staff and apprentices.
According to a worker who pleaded anonymity, more than about 300 workers, 90 per cent of the workforce were retrenched in March last year.
"They gave an excuse that the exercise was due to the global meltdown. But shortly after that they had resources to build three new plants," the worker said.
He said their new Production Manager, Mr. James Itiba also sacked 16 workers early this year.
He stated that the immediate cause of their grievance against the management was that they wrote the workers that they were going to lay off more than 200 workers again.
"It contradicts labour laws for an organisation to retrench workers several times in a little more than a year. The law says that a company can only do so between five to ten years after the first retrenchment," said the worker who also lamented the poor remuneration of the workers.
When P.M NEWS got to the factory yesterday, the workers were seen outside the factory gate.
Efforts to contact the management failed as a security man said none of them was around.
P.M NEWS made several phone calls to the Human Resources Manager, Mr. Kiki Ebube.
At first he said he was in a meeting.More calls were made to him but he did not pick them. When he eventually picked his phone call, he told our reporter that he could not hear him clearly. Few minutes later, when P.M NEWS called, a lady picked and said Mr. Ebube was in the bathroom.

P.M. NEWS had to resort to sending a text message to him to get the reaction of the management to the development, but he failed to reply.

— Paul Dada
Load more