Reactions from both home and abroad have greeted the ban, by President Goodluck Jonathan, of the Super Eagles from international competitions for the next two years and the dissolution of the board of NFF.
The Executive Committee of the Confederation of African Football, CAF, said they are disturbed by the action of the Nigerian government.
President of CAF, Isa Hayatou, who spoke on a local television station in South Africa yesterday, said they are yet to get an official statement on the ban imposed on the NFF, even as there are indications that CAF is making a case against FIFA's hammer falling on Nigeria.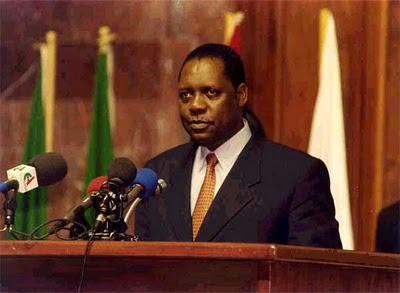 He disclosed that FIFA President, Sepp Blatter has asked him to explain what is going on in Nigeria, adding that CAF is still maintaining close contacts with FIFA/CAF Executive Committee member,  Dr. Amos Adamu to see how they can put an end to the self-imposed ban.
Hayatou said that if the ban is political, that FIFA would not hesitate to take necessary action against Nigeria. He stated further that the two-year ban will not augur well with them, adding that FIFA is expecting Nigeria's Falconets in the U-20 World Cup, which starts next week in Germany.
According to him, "We are yet to get an official statement from the NFF, but I want to advise Nigeria to tread softly and be aware of FIFA's hammer, because FIFA would be expecting Nigeria in the female World Cup starting next week in Germany. The competition is in FIFA's calendar and should Nigeria fail to attend, they face FIFA's axe."
Jerome Valcke, FIFA's General Secretary is yet to comment on the issue, saying they are waiting and monitoring the situation and when the time is ripe, they would take necessary action.
With FIFA's rules very clear on an issue like this, if the Federal Government fails to rescind its decision, FIFA's axe may fall on the country. Nigeria may be fined heavily and suspended from all FIFA organised competitions. This means the country's female teams will be forced to pull out of the FIFA U-20 and U-17 World Cups slated for Germany and Trinidad & Tobago in July and August, respectively.
Meanwhile, Nigerians have expressed support for the Federal Government's decision to withdraw the country's football teams from international competitions for the next two years.
Football enthusiasts who spoke on the development told the News Agency of Nigeria, NAN, that the directives were a good step in the right direction.
Alhaji Sani Toro, a former Secretary-General of the then Nigeria Football Association (NFA), said that the government's decision must have been based on public opinion.
"I believe President Goodluck Jonathan has acted on public opinion. Many Nigerians have been unhappy with the performance of the Super Eagles at the 2010 World Cup finals, as well as the Nigeria Football Federation (NFF) itself," he said.
He allayed fears of any possibility of the world football governing body, FIFA, viewing the development as government interference in football affairs.
"Obviously, FIFA does not like interference; but FIFA too knows that it needs governments. This is because it is only governments that can give the guarantees it needs when any of its competitions is being held somewhere," he said.
Alhaji Ibrahim Galadima, a former NFA chairman, in his reaction, said: "Government has a right to take such a decision, especially in asking for an audit of the finances because we all know that government has a responsibility to its people.
"I am sure government took into consideration all our commitments before arriving at that decision. But whatever happens, I believe it is a decision that will reshape our football and help our youths."
FIFA and CAF Instructor, Chief Adegboye Onigbinde said that Nigeria's withdrawal from international football will only benefit the country if the period is well utilised. He said: "Definitely there are problems with football in Nigeria. I have warned severally that we need to restructure our football and if this is coming from the president of the nation, it means I'm not wrong. But my worry is how we handle this matter."
Ex-international, Victor Ikpeba said the decision of the Federal Government to ban Super Eagles is a welcome development that will help the country to reorganise her football.
"The decision will make us to be serious. By the time this is over, we'll be good for the 2018 FIFA World Cup," he said.
In his own reaction, former Eagles striker, Jonathan Akpoborie expressed happiness over the decision, saying that the president has taken a good decision at the right time.
"Nigerians are happy about the decision. I have been praying for this decision to happen and it has finally come to pass. We cannot continue to spend unnecessary money all in the name of football without getting result," he said.
Akpoborie believes that Nigerian football can rise again if the right person is in the right place and appealed to FIFA to understand the decision of Federal Government, saying that any attempt by FIFA to threaten Nigeria will be a disappointment to soccer loving Nigerians.
"FIFA should respect Nigeria's decision and feelings of Nigerians. The government has spent a lot of money on national teams," he said.
Former Eagles goalie, Alloy Agu said this is the time to go back to the drawing board if the country wants to make any headway in the 2018 World Cup.
He said what Nigeria is passing through now had happened to Ghana in the past and Ghana got out of it, adding that Nigeria's football can be better if all hands must be on deck.

—Tunde Oyedele/ Johannesbourg, S/Africa
Load more