Popular movie producer, director and actor, Ernest Obi, in this interview, speaks about his marriage, movie industry and crisis rocking the Actors' Guild of Nigeria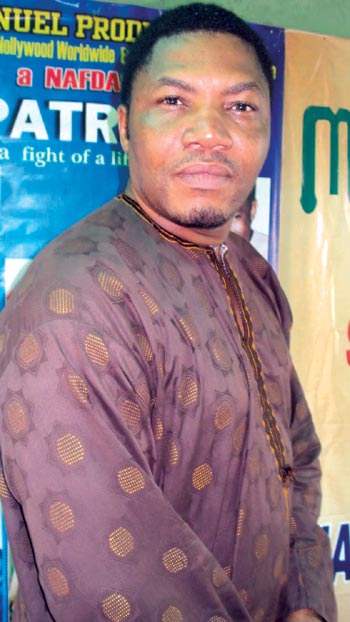 Q: Congratulations on your wedding, how has it been?
A: Well, it was a nice experience because I did something officially with a person I had an eight-year relationship with.
Q: Why did it take so long to make the relationship official?
A: You know, we just had to wait for the right time and I think when we wedded was the right time. I had to wait for her to finish her first degree and right now, she is doing her Master's, but we decided that we don't have to wait for that.
Q: How did you meet her?
A: I met her when she came to register as an AGM member, that was eight years ago. I advised her that combining school and acting at that time would be difficult. Since she was studying Languages (French), she took my advice and we established a communication link. One thing led to another and we started as friends and the relationship slowly blossomed. It wasn't something that just happened, it took some time.
Q: You had a child before your present marriage, how do you intend to cope with your wife and your daughter?
A: I hope my wife doesn't kill me for saying this, my wife and my daughter, Ada, have a wonderful relationship in the sense that I think my daughter loves my wife more than she loves me. I think it was just about the sincerity, it's about a young girl who discovered that there is a woman in her father's life, who loves her just as much as she loves her father. And from day one, it has been Mummy this, Mummy that. They are just inseparable. I don't remember the last time I actually had time to do anything for my daughter, but I'm sure my wife does something special for her everyday and she is extremely firm with her. She does not see Ada as my child, she sees her as our child, so, whatever our daughter does, she handles it like a mother.
Q: You have distinguished yourself as an actor and a director, how have you been coping with these two aspects of your life?
A: Well, it has not been easy. I started as an actor, although I majored in directing. I actually started as an actor before I went to Ife and realised that there were lots of problems in the industry. I went into directing, but it was a tedious business. Acting is something you become used to although you need to interpret varying characters every time, but because of the monotony, most of the scripts you might get, play the same character over again. But as a director, you need to be creative enough to make a picture different from the hundreds of pictures in other movies. In short, directing is very tasking, but they both give me pleasure.
Q: Do you see yourself better as an actor?
A: It is either you can act or you can't but you have some people that even at the point of a gun shot, they still can't act because it is not in them. Acting is a talent, you must be able to interpret and characterise. The difference between acting and directing is that you need to be focused and that's what some of our people lack. However, both roles are tasking.
Q: You said that you have stepped aside as an actor, can you throw more light on this?
A: No, I have not stepped aside, I had to go into directing fully because I had a problem with those interpreting the scripts. We had lots of people who know nothing about what directing is all about and I felt I shouldn't just sit on the fence and complain. I felt I could do things right, but we have a lot of fantastic directors out there, who are working very hard, while some, because of hunger, become directors. So acting and directing are two different things entirely.
Q: As a member of the Guild of Directors, is there a way the organisation can wade into this?
A: The Directors' Guild will do as much as it can. Most times, the problems we have with associations and guilds is that we lack structure, although we are trying our best, we will get there some day. Maybe some of the criteria used for would-be directors should change, because years back, it was said that if you have directed one or two movies, you are automatically a director and can register as a member of the Directors' Guild, but I don't think that makes one a director. You can actually be a director by name and even a member of the guild, but at the end of the day, when you see your movies, then you will know you have no business directing.
Q: Presently, people have been talking on re-branding Nigeria and they say Nollywood can be a medium of change. In your own opinion, with the kind of movies presently shot, do you think that is possible?
A: We can do it just the way it is being done in America. There is hardly no America film that you won't see them flying their flag or using stickers, T-shirts and other things just to promote their country. They do this because they get support directly or indirectly from their government via funds and other measures. Here, there is no film fund, there are so many things that are totally wrong and we are all pretending that it will work itself out and yet, people say we are not patriotic enough and that because we don't get the support. If as a film director or producer I'm actually spending my own money, when will I remember patriotism? I will first and foremost concentrate on caring for my family because if I don't do that, they will probably starve. In this case, patriotism becomes secondary and this is wrong. But when your country doesn't remember that you exist, then you won't remember that country. So, we are actually forcing the country to realise that we are being ignored.
Q: I watch Africa Magic and Hi Nolly and most of the movies shot in Nigeria and being shown on these stations portray witchcraft and other things and these movies are shown to other countries. What do you have to say about this?
A: Your country is your identity, if we had a situation whereby we had support, if we have a market that is more buoyant than what we have now, we can then portray movies of families, where a nice family lives together forever and probably don't sell and you have to beg people to even watch it. But when you tell them stories of things that happen around, stories that they can relate to, then you are telling them the story that they want to watch and want to buy. But when you give them what they can't relate with, then you will go back to the village. There is this new trend that you must expose a part of your body, even if it has nothing to do with the movie because I have done a movie like that. I guess if you want to make it, you have to join them. The problem now is that those selling films feel that is the kind of films that will sell.
Q: There is this insinuation that actresses are going into prostitution because there are no more jobs for them in the industry?
A: Recently, thousands of people were sacked from the banking sector, there are lots of rumours that lawyers, doctors and bankers who don't have work go into prostitution. Are you telling me that an actress who has been earning over N800,000 suddenly goes into prostitution because there is no more job in the industry? I see all this as nonsense and don't see any truth in that.
Q: What is your personal view about the Censors Board?
A: I feel a lot of things need to be done that have not been done. Things like having proper distribution network. We were told about two years ago about a framework, but now we don't hear about any framework any more. Those who pushed for the so-called framework, where are they now? They called themselves stakeholders but where are they now? There is no framework in existence now and because of this, they set the industry back by five years. The kind of films that are shot now are those that will not be shot four years ago. Everybody is just doing what he or she wants. The association is in disarray.
Q: Will you still want your wife to be an actress now that you are legally married?
A: Yes, she can act, she did a job for me two years ago and it came out right. If anybody needs her in a movie, why not? She can act, but I know it is not something she wants to do full time.
Q: What about your daughter, would you want her to act?
A: My daughter, Ada, cannot go into acting. Although she loves acting, I don't want her to act.
—Bayo Adetu & Zainab Afege
Load more