Overzealous fans of the late rap music star, Olaitan Oladapo Olaonipekun famously known as Da Grin, have immortalised him by embossing his portrait on N20 note.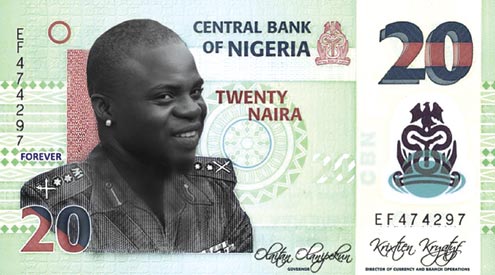 The portrait, which is already generating controversies, was posted on Facebook by some mischievous fans of the late rap artiste with the aim of immortalising him, but the action has been described as illegal.
The mischievous fans, with the help of computer graphics, removed the portrait of the late former head of state, General Murtala Muhammed and replaced it with that of Da Grin on the N20 note. (See the computer generated N20 note above).
Since the Pon Pon Pon crooner died on Thursday, 22 April this year, his fans have been making series of efforts to immortalise him.
They also posted a graphics on Facebook where they placed the portrait of Da Grin and the late American rap star, Tu Pac Shakur side by side. The American music star also met his untimely death in 1997 at the age of 24.
—Bayo Adetu
Load more