World football governing body, FIFA, this morning issued Nigeria a two-day ultimatum to reverse their decision to suspend the Super Eagles and other national teams from international competitions or have their FIFA membership suspended.
Speaking to Johannesburg's 702 radio, FIFA secretary-general, Jerome Valcke said: "If the Nigerian government is not moving back we will have to suspend Nigeria.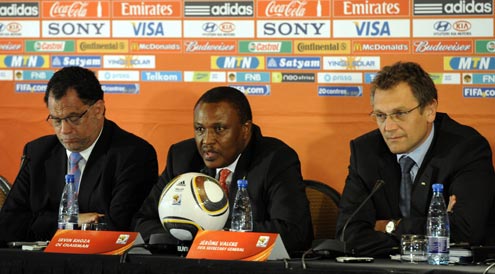 "The decision will be made in the next 48 hours," he added. Valcke said he would meet the Nigerian executive member representing Nigeria at FIFA, Dr. Amos Adamu to discuss the decision.
"Nigeria went too far and Nigeria will be suspended if they don't change their position in the next 48 hours," Valcke warned.
The Nigerian government on Wednesday suspended all the country's teams from international competitions for the next two years over the poor performance of the Super Eagles at the ongoing 2010 World Cup in South Africa. The team went out winless in the group stage.
Nigeria say they want time out from the international stage to rebuild the team but immediately fell foul of Fifa. Fifa have strict membership rules banning political interference in football.
President Goodluck Jonathan also ordered the dissolution of the board of Nigeria Football Federation, NFF, led by Alhaji Sani Lulu.
But the Sports Minister Isa Bio says Nigeria are prepared to work with FIFA to ensure that no regulations are violated as the country seeks to clean up its football.
But he also made it clear that the government will put the interests of the Nigerian citizenry first.
"Nigeria will do everything possible to take the interest and sovereignty of Nigeria first and foremost and if that is in conformity with FIFA rules, so be it but if it is not in conformity with FIFA rules I think the sovereignty of Nigeria and interests of the people is most paramount," Bio said on Thursday in Abuja.
"What we want to do is to get people who by their experience will restructure and reorganise our football and start right from the grassroots, invigorate the clubs and encourage more football academies where we can get young men to replace the present ones," Bio said. "That takes time and experience.
"Government is trying to liaise with FIFA in order to get these things done without necessarily violating FIFA rules."
Bio described the rot in the country's football as a cancer which required surgery.
"You cannot have cancer and continue to live with it because you don't want to spill blood; we are ready to spill blood to remove the cancer. And so be it."
Nigeria went to the World Cup without a single player from the country's domestic league, and Bio insists the government wanted to redress that.
"Nigeria is so passionate about sports and we are relying on players from foreign clubs. We should have players that are home-based.
"We are trying to have a deliberate policy whereby we can encourage our local league to be very attractive so that we do not have to rely on foreign-based players all the time and when they are not available we continue to wait until their football seasons are over," he said.
Meanwhile, Nigeria's government has named former national team captain Austin Okocha and striker Samson Siasia into an 11-man Caretaker Committee aimed at restructuring the administration and management of football following the country's voluntary withdrawal from international competitions.
At the head of the committee is former Secretary General of the NFA, Mr. Mammud Kadiri.
Other members include former broadcaster Danladi Bako, sports journalist Mitchell Obi, Jani Ibrahim and Barrister Seyi Akinwunmi.
Former Sports Minister Sani Ndanusa has also been included in the committee which also has Nigeria's first FIFA-badged woman referee Jamila Buhari.
A representative from the office of the Attorney-General and Minister of Justice and candidate from the North East Zone are to be named later.
Patrick Ekeji, Director General of the National Sports Commission, has said that the committee will be inaugurated on Monday, 5 July  in Abuja.
Load more