Former Super Falcons' Coach, Paul Hamilton, popularly called 'Wonder Boy' spoke about the suspension of the Super Eagles from international competitions for two years and the way forward with Nigerian football with SUNDAY AKINTOYE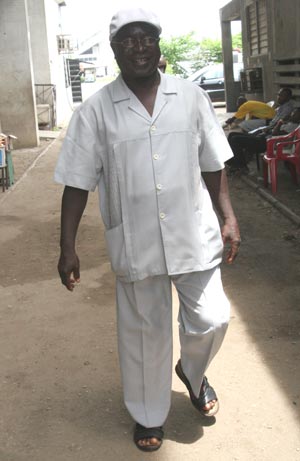 Q: President Goodluck Jonathan suspended the Super Eagles from international competitions for two years, what is your take on this?
A: I think the decision of the Federal Government is in the interest of all soccer-loving Nigerians, who want the best for our football. Our football has suffered for many years and this is the time to address it and what Jonathan did really showed that the government is not happy with the way football is being run in this country.
Q: Don't you think what the Federal Government did will make FIFA ban us for more than two years?
A: Let's wait for the reaction of FIFA first before we can say anything. Ghana did a similar thing sometime ago and look at that country today, they are making waves in international football. We need to re-organise our football if we want to move forward. Let us go to the drawing board to start afresh.
Q: People said Nigerian players, who are at the pinnacle of their careers, will suffer as this action will deny them the opportunity to play for their fatherland. What do you think?
A: It is not going to affect them at all. They will still play the game within the country in order to keep themselves fit. Players have the right to travel abroad for trials. Let's sanitize the game and the two years will help us to discover new players for the national team.
Q: Let's talk about the performance of Super Eagles at the FIFA World Cup, how would you rate the Nigerian team?
A: I don't want to talk about the past. Eagles went to the World Cup and disappointed millions of Nigerians all over the world. So it was a disastrous outing for us. Let's start our preparations for 2018 because I don't think we can play the qualifiers for 2014 World Cup because of the action of the Federal Government with the suspension of the Eagles.
Q: Are you not disappointed that the Eagles have not gone far at the FIFA World Cup?
A: I am not disappointed because I saw it coming. I knew that the team won't do well in South Africa.The problem started when Coach Shuaibu Amodu was sacked. Our preparation was not good enough so we don't expect better performance from the Eagles.
Q: Ghana is the only African country that qualified for the quarter final, do you see them going far in the championship?
A: They can go far if they remain focused and determined.They did well in all their matches and I won't be  surprised if  they beat Uruguay in the quarter final because they play good football.
Load more