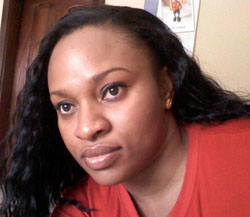 Secretaries have always been known to handle the official matters in the office. They are there to attend to clients and visitors alike. A confidential secretary should be able to know and understand the boss so well including his official programmes, while their relationship is supposed to be strictly formal.
But is this the case with our bosses (CEOs and managers) with their female staff? The offices have now become brothels in disguise, while women are no longer employed for what they can give (not really because they can give their body), I mean, what they can contribute towards the growth of a business, rather they are employed for their look and body.
It is now a case of the higher the job, the greater the level of prostitution. Female staff (married or not) are now oga's secret wife.
Wondering why I said that? I went through it where a female secretary, a married woman and a minister in the Redeemed Christian Church of God was sleeping with my own man. She was the secretary as well the manager of his business. I was even indirectly made to stop visiting the office because of her. She was the one collecting house rent from tenants and remitting whatever she likes because nobody questions her. It got to a point that she started shopping for my house.
So many women have found themselves in this same situation where the husband's female staff totally takes over the running of everything. I remember a friend's aunt, who once went through this same problem. It got to a point where this woman, the wife of a very rich man, was banned from visiting his office. This same secretary also had the right over the woman's expenses. After writing her shopping list, the secretary had the right to cancel whatever she likes to take off it. The poor woman was pushed to the point that she had to cry to God to take away everything from the man. And God, being a God of justice, answered her prayer. It was only when the man realised his mistake and sought the woman's forgiveness that he was restored.
Are you shouting now, saying it is not possible? I can tell you that a lot of Nigerian women are in this situation. Secretaries and female staff have taken over men from their wives. They work for them in the office and after office hours.
Some bosses now have special days when the board meeting lasts till late in the night. We know there is no board meeting, the truth is that those days are for your secretary and PA. She tells her husband and boyfriend that those days are for board meetings and she has to work late.
We now see female staff in lovely cars, while their male counterparts are not being recognised by the boss. Most times, she tries to make people feel she is very hard working. She is given awards and sponsored on trips abroad. Even when the boss travels abroad on a business trip, she is with him. Anyway, she has to be with him because she is now Mrs… The fact is that she is his bedmate.
I have seen people come to tell us how wonderful their PAs are and madam has bought the idea that she is a wonderful person. She even buys things for her and brings her home for dinner. She has come to accept her as a part of the family. If your case is like my own, she comes in as a wonderful friend, mother and pastor, who loves the family very much.
I know a pastor who goes everywhere with his PA, a woman who is not even as beautiful as his wife. Some of them even open branches and make their girlfriends pastors just to cover up their evil doings. You see pastors travel for different church programmes abroad with their PAs, who are nothing but bedmates. How can you tell me nothing is going on between the two of you when she does everything a wife is supposed to do for you?
One thing I want you to know is that the moment you start having an affair with your staff, your business begins to go down. You may not notice it now, but soonest you will.
I so much admire men who chose men as their secretaries and PAs. It keeps them more focused (except they are a gay).
You may have other reasons for choosing a female secretary. But be careful who you employ. Look for a trained secretary instead of a potential bedmate. I hear people go for the beautiful ones when it comes to marketing to attract customers, but I don't know why you must go for such when it comes to choosing a secretary.
Women are now so desperate for men. I don't know why, but it is on the increase. They are so desperate for husbands and in a case where they fail to have a single man to ask for their hand in marriage because of their gullible nature and dirty lifestyle, they opt for any position in your life.
Married women are even worse than single girls. She comes into your business as a married woman. Madam is so relaxed that she is married. But I can tell you this; she has a mission. Just yesterday, a friend told me a story about a married woman who was in her husband's house but still got a man to transfer his property to her. Sure, you know the man did not do that with his clear eyes.
We heard the story of a politician who was lured into marriage by a woman claiming to be a pastor even when she knows the man is still with his wife. Oga, your secretary could appear godly and prayerful, but please be careful. They have destroyed homes and lives just through their job as PAs.
I recently heard a story about a man who just woke up one morning to throw his new wife out of the house. This so-called wife was his secretary before she became the wife. She made this man send his wife and five children out of the house. How she did it, you may ask? I will tell you.
This girl was so dedicated to her job that even the madam got so close to her and started inviting her over for dinner. She later shifted from the madam to the mother of her boss. As you know, we have some greedy old people who can easily sell you out for just a piece of bread. She started buying her gifts and sending money to her. The man's wife was just a housewife who had nothing to send to her mother in-law.
Before you say Jack Robinson, the lady had begun to date her boss and this continued to the point that he sent the wife and the five children out of the house. In the process of struggling for survival, the woman lost two of the children, while the secretary then became the new wife and everybody loved her because she bought them over. But God, being God, delivered that man from the hands of the evil secretary.
As you also know, every "jazz" has an expiry date. Whenever the end comes, disaster sets in. The man woke up one morning and kicked her out of the house. You could be thanking God for such victory, but remember, he lost two of his children.
Why do you have to wait until they get a hold on you? Be careful when you send her to buy your lunch. Be careful when you take her on that business trip abroad. She has nothing at stake, but only to destroy you and once she's done with you, she moves to her next prey.
Sir, if it means stepping on toes for your life to be delivered, do it. Let your wife pack lunch for you before you leave for work. If you have a good relationship with her, she can take the pain of driving to your office to serve you lunch. But the problem is that you don't want her to come, maybe for the fact that you are not so proud of her or because she shouldn't get to know your sexcapades. If you work around the same area with your wife, what stops you from inviting her for lunch somewhere around?
You may also need to change your secretary. I am sure by now, you have seen her real mission in your life. Some of them wear very short skirts to the office just to seduce their bosses. Give her a note of warning for a change in her manner of dressing. Learn to be very formal in your relationship with her.
Pastor, no matter how spiritual that sister is, I will advise you to go for a male PA. I remember the man who God change my father's life as a young man. He was the founder of the then popular Jesus the Light Mission in Benin City. This man performed wonders. When I talk about miracles, I mean genuine miracles in the 1970s and 1980s.
It was his secretary that pulled him down. A day came that the lady went into his office for prayer and while the man was praying for her, she began to remove her clothes. The man wanted to run away but she threatened to shout for rape and by the time you know it, they were already in a serious relationship. She pushed this man to the point that he left his wife, three kids and the church and relocated to Japan with the new wife.
Thank God for his mercies. Over there in Japan, he remembered his wife and the children he abandoned. I remember the day my dad brought out magazines and pictures taken during his crusades. As he saw those pictures, he broke into tears. He later went back to Japan, paid the lady off and came back to his wife and children. Today, the first son is managing his school in Japan. The church? It is now history.
Be careful, businessmen. You have lost some businesses because of your sexual relationship with your secretary. I remember visiting a friend some weeks back and harassing his secretary who could not even respond well because she saw a woman in the office. So many great business connections have passed by simply because your secretary feels every woman that comes into your office is there to take you away from her.
Make amends while there is still time.
Load more