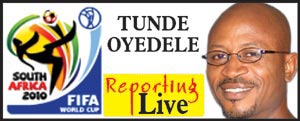 Mattar Ricardo is not just a Brazilian football fan. The businessman, who travelled all the way from Rio de Janaeiro to South Africa to rally support for Brazil at the 2010 FIFA World Cup is better described as a jester and may be a prophet because of his right predictions.
Ricardo is known with the biggest 'World Cup' ever, which he carries around whenever his country participates in the tournament. The Brazilian claims that the cup gives Brazil luck whenever he takes it to any World Cup.
"I took a similar cup to Korea/Japan about eight years ago and it gave us luck. So, this year's cup is going to Brazil," he said.
The first time P.M.Sports ran into Ricardo in Durban, the Brazilian boasted that his country's team are in South Africa to take the World Cup home.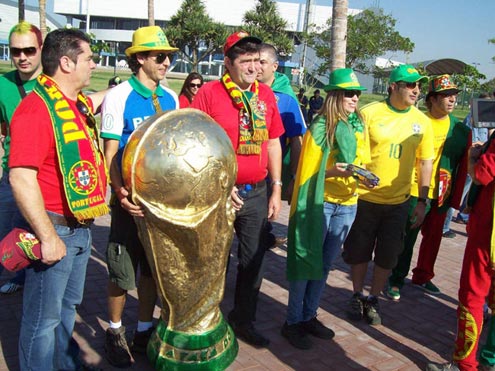 "We Brazilians are in Durban to pick the quarter final ticket, so we need just a draw against Portugal and we'll go ahead from there," Ricardo told this paper in a brief interview conducted in front of the Fan Fest Pavilion, near Sun Coast Towers in Durban.
After the chat, Ricardo and thousands of fans all clad in Brazil's traditional yellow and green colours headed for the Moses Madiba Stadium, where their team confronted the Cristiano Ronaldo-led Portugal in a last group match.
The encounter was damn so entertaining that thousands of spectators at the sports complex had no choice than to clap their hands endlessly for both teams.
Brazil goalkeeper, Julio Cesar was in top form, as he stopped several dangerous incursions made into their rear by Ronaldo and Fabio Coentrao.
Just as Portugal continued their offensive play, Luis Fabiano, Julio Baptista and Nilmar responded with counters after counters, but goalkeeper Eduardo also stood tall against Brazil.
The match was fair in love and war while tempers rose to the climax but referee Benito Archunda from Mexico did a yeoman's job. Although, none of the teams hit the back of the net, but they qualified for the round of 16 as predicted by Ricardo.
Last Thursday, at the Ellis Park Stadium, Johannesburg, Ricardo was sighted among the crowd again and he quickly chorused: "This cup is just waiting to escort the 2010 World Cup to Brazil, so let Chile (their second round opponents) go and pack their luggage and be ready to head home". In Ricardo's prediction before the clash in Johannesburg, he said Brazil would thrash Chile three-zero, adding that Robinho would score in the tie.
At the end of 90 minutes, Brazil hit Chile thrice with goals from defender Juan, Fabiano and coincidentally as predicted by Ricardo, Robinho netted the third.
After the match, Ricardo told P.M.Sports that their journey to winning the cup in South Africa has just started.
"Look at this cup, although, it's gold in colour but it's yellow to we Brazilians. That's why we and the World Cup are inseparable, it's the winning colour," he boasted, adding that Brazil will also beat Netherlands when they clash this evening in a quarter final match at the Port Elizabeth Stadium.
Ricardo said the big replica World Cup was produced in Rio de Janeiro for about $200 while he paid $60 to transport it to South Africa. He believes Brazil will win all the way and take the cup home.
Load more