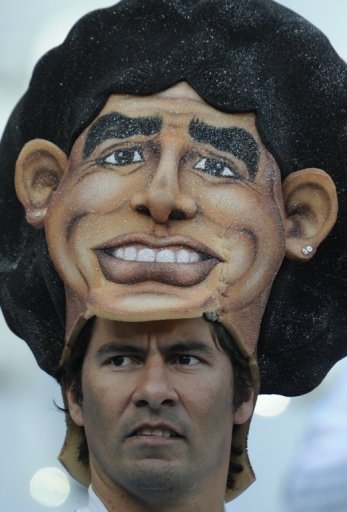 CAPE TOWN (AFP) – A RUTHLESS GERMANY SIDE dismantled Maradona's much-fancied Argentina in a ruthless display of disciplined and dynamic football at the Green Point Stadium in Cape Town on Saturday.
The 4-0 scoreline didn't flatter Joachim Loew's side, who now advance to a semi-final against Spain or Paraguay in Durban on Wednesday.
Thomas Mueller headed home a free-kick after just three minutes and, despite Lionel Messi showing flashes of creativity thereafter, Argentina struggled to fashion many clear cut chances before the interval.
The Germans simply soaked up the pressure in the second-half and stung the South American opponents with some slick counter-attacking moves.
Read on to find out how the Argentinian World Cup dream ended at the hands of a youthful but supremely well-drilled Germany.
1559 GMT: My colleague Liliana Samuel sends me this reaction from Buenos Aires:
"Thousands of Argentinians reacted with shock and despondency at the elimination of Argentina from the World Cup," Liliana tells me.
"Dressed in white and sky blue, many fans — who had gathered to watch the game on a huge screen at the Obelisco monument in the city — broke down in tears at the defeat. "
1555 GMT: That was a supreme display of disciplined and dynamic football from Germany, capped off by some ice-cool finishing.
They simply ripped Argentina apart — no team's going to want to play Germany on this form.
90+1 mins: FULL-TIME – Argentina 0 Germany 4
89 mins: GOAL! Argentina 0 Germany 4
And this is champagne football from Germany! They break down the left through and the ball is chipped in for Miroslav Klose who strokes home a sweet finish from ten yards
That's 14 goals in World Cup finals now for Klose. Superb.
87 mins: Messi spies a little opening from 25 yards out — he swivels and lets fly with a shot  which is deflected into the arms of Neuer.
Just not the little man's day.
– 82 mins: Thomas Mueller comes off and is replaced by the smaller and nippier Piotr Trochowski.
But they're just giving him a runabout  in preperation for the semi-final, which will be against Spain or Paraguay.
– 80 mins: YELLOW CARD! Argentina's Javier Mascherano is booked for a nasty trip on Klose.
– 76 mins: Germany bring on Toni Kroos on for Sami Khedira while Maradona sends Sergio Aguero on for Angel Di Maria.
– 74 mins: GOAL! Argentina 0 Germany 3
Easy as you like — that's Germany into the semi-finals.
Schweinsteiger picks the ball up on the left touchline, drifts past three defenders to the byeline and cuts it back for centre-back Arne Friedrich to roll home his first ever international goal.
– 72 mins: Germany's Marcell Jansen on for Jerome Boateng.
69 mins: Maradona surely has to roll the dice now. He replaces defender Nicolas Otamendi with midfielder Javier Pastore. How about some strikers.
– 68 mins: GOAL! Argentina 0 Germany 2
And are Argentina heading out of the World Cup? Podolski rolls it across the area and the unmarked Miroslav Klose can take a touch before prodding it into the net from a yard out.
That's his 13th goal at World Cup finals. Not bad.
65 mins: My colleague Simon Sturdee in Berlin again:
"Oliver Kahn, Germany's long-term former goalkeeper, thinks Germany deserve to be ahead," says Simon.
"Argentina, 'King Kahn' reckons, have got it all wrong tactics-wise: 'You can't play the modern game when you have two or three players only concentrating on attacking,' he says."
– 62 mins: Tevez is starting to show signs of frustration — he gets the ball thirty yards out and, rather than finding a team-mate, let's fly with a piledriver but it's straight down Neuer's throat.
– 60 mins: Real Madrid striker Gonzalo Higuain — who already has four goals in the tournament — has looked sharp all game. He breaks at the backpedalling German centre backs but the excellent Boateng gets a foot in.
– 56 mins: Messi slides it through for Higuain but he's waved offside. Extremely tight but probably just right.
– 52 mins: Di Maria runs at Boateng down the right and cuts inside. It seems like he was fouled but Argentina get the ball back anyway.
It's crossed in to Rodriguez who chests it down for Tevez who smacks it goalwards but it catches Mertesacker flush in the face.
– 48 mins: The Albiceleste have definitely started this half the stronger – Di Maria rifles in a shot from the right but it flies past the outstretched arm of Neuer and beyond the big 'keeper's righthand post.
1502 GMT: WE'RE BACK UNDER WAY in the second half in Cape Town.
Neither side has made any substitutions during the break.
Argentina have won 12 of their last 13 matches — surely the Germans will need a second to win this?
1449 GMT: "It's totally intriguing," says former Liverpool defender and BBC Sport pundit Alan Hansen.
"I cannot believe how bad Argentina were in the first 20 minutes, Germany were first to every ball and they should have finished the game off."
– 45+2 mins: HALF-TIME – Argentina 0 Germany 1
45+1 mins: Messi skips away from two defenders and lets one go but it's still rising as it flies into the crowd.
– 43 mins: Chance for Germany — Lahm roasts Heinze down the right and pulls the ball back for Mueller who toe-pokes goalwards but it's deflected wide.
39 mins: Podolski lets loose from 30 yards but his vicious shot wobbles past Romero's lefthand post.
-36 mins: YELLOW CARD! Thomas Mueller booked for a handball five yards outside the area.
Messi hits the free-kick at the wall and the rebound is slipped through, it's rolled across the area and slotted home! But at least four players were yards offside.
34 mins: Otamendi plays it into Higuain on the right edge of the area and he turns Friedrich, shoots low but well-saved by Neuer just inside the post.
32 mins: Good bit of work from Di Maria down the right and he breaks inside but can only shoot low and straight at Neuer.
Maradona's men are edging their way back into this and Messi is seeing a bit more of the ball.
– 28 mins: German Chancellor Angela Merkel is in the stadium and she can't but be impressed by  the efforts of Die Mannschaft so far (that's 'The Team' if you weren't sure…)
German TV interviewed here before the game, my colleague Simon Sturdee in Berlin tells me. Her prediction? 2-1 to Germany. "But everything has to go right," reckons Angie.
– 24 mins: But that could — and should — have been 2-0 Germany.
Mueller rushes into the righthand side of the area and pulls the ball back to an unmarked Klose 12 yards out but he curls it high over the crossbar. What a chance for the Germans to ram home their advantage.
The 20-year-old Mueller is everywhere by the way, carrying straight off from his man-of-the-match display against England.
22 mins: Tevez rushes in to a lovely through ball into the area from Messi but Germany 'keeper Manuel Neuer rushes out to claim at the Manchester City striker's feet.
– 18 mins: First Argentine corner of the game — Mertesacker heads away though.
– 14 mins: Germany looking threatening again and Podolski's right-footed effort from the edge of the area is deflected wide.
– 11 mins: YELLOW CARD! Nicolas Otamendi is late on Arne Friedrich near the left touchline and is rightly in the book.
9 mins: Messi gets the ball fro the first time and skips past a couple of tackles in his own half before releasing Di Maria down the left. But the winger can't get a cross in and the break is wasted. First glimpse of the Argentine threat though.
7 mins: Di Maria sticks his hand out and deliberately handles the ball but no action is taken by the referee.
The Argentines look rattled, and who can blame then as the Germans have started like an express train!
3 mins: GOAL! Argentina 0 Germany 1
What a start! Bastian Scheinsteiger whips in a delicious free-kick from the left after Podolski was fouled and a practically unmarked Thomas Mueller gets up well to head past the helpless Sergio Romero in the Argentine goal.
2 mins: Klose chases down Mascherano and clatters into him from behind near the Argentine box — no yellow card though.
1401 GMT: THE WHISTLE IS BLOWN and they're away in Cape Town!
1358 GMT: Both sets of players are out and the anthems are being played…
1352 GMT: And, in the interests of intercontinental balance, Liliana Samuel has sent me this from Buenos Aires:
"Thousands of Argentinians have gathered around the city's iconic Obelisco monument, the traditional location for sporting festivities, to watch the game on an enormous screen," she tells me.
Maradona has given a message to the fans of the Albiceleste via Argentine TV: 'We're going to play football the way we know how and we'll leave our skins on the pitch — all my players want to make you very happy," Ouch.
– 1348 GMT: And another colleague Martin Parry has sent me this from the stadium:
"Cape Town's impressive Green Point Stadium, which is filling up nicely with the blue and white Argentine flags well outnumbering Germany's gold, red and black .
"The wind's starting to swirl but it's been a gorgeous winter's day, so nice that some brave Argentine fans even got their kit off for a dip in the bracing Atlantic Ocean near the arena this morning!"
1344 GMT: My AFP colleague Simon Sturdee has been in touch from Berlin:
"It's boiling hot here. The hundreds of thousands of people watching the game on big screens by the Brandenburg Gate have been warned that if they don't faint from the football, they will from the heat. They are responding by drinking beer."
Very sensible too…
"If anything, the Germans are a bit over-confident after the ease with which they demolished England last Sunday," Simon adds.
"The Bild tabloid's headline today is: "Adios Diego!". German flags are absolutely everwhere."
1341 GMT: So Germany's two attacking midfielders Lukas Podolski and Mesut Ozil are both passed fit to start.
Both teams are therefore unchanged from their dominant victories in the previous round.
1337 GMT: The starting line-ups are out:
Argentina: Sergio Romero – Maxi Rodriguez, Martin Demichelis, Nicolas Burdisso, Gabriel Heinze – Maxi Rodriguez, Javier Mascherano (capt), Angel Di Maria – Lionel Messi, Carlos Tevez, Gonzalo Higuain
Coach: Diego Maradona
Germany: Mauel Neuer – Philipp Lahm (capt), Per Mertesacker, Arne Friedrich, Jerome Boateng – Sami Khedira, Bastian Schweinsteiger, Thomas Mueller, Mesut Ozil, Lukas Podolski – Miroslav Klose
Coach: Joachim Loew (GER)
Referee: Ravshan Irmatov (UZB)
WELCOME TOUR OUR LIVE TEXT COMMENTARY of Argentina's potentially explosive World Cup quarter-final meeting with Germany at Green Point Stadium in Cape Town.
There is little love lost between these two sides.
Germany's penalty shoot-out win over the South Americans at the same stage of the previous World Cup four years ago in Berlin was followed by a mass brawl and it's clear from comments coming out of both camps before this rematch that bad blood still remains.
"The behaviour of the Argentines on the pitch, how they gesticulate and try to influence the referee, is disrespectful," Germany's Bastian Schweinsteiger said this week, while Maradona responded by saying the midfielder's words simply revealed his nerves.
The good news for Maradona's men is that their star player, the twinkle-toed Lionel Messi, is expected to play despite missing Thursday's training sessions with a cold.
Meanwhile, Joachim Loew's youthful side has few injury worries with attacking midfielder Mesut Ozil — architect of the German's 4-1 humbling of England in the last round — also expected to play a full role even though he missed training two days ago with fatigue.
So, it's Latin spirit against German grit and nerve — this could be a real intercontinental humdinger. Kick-off in Cape Town is just thirty minutes away at 1400 GMT so stay with us for all the action as it happens.
Load more