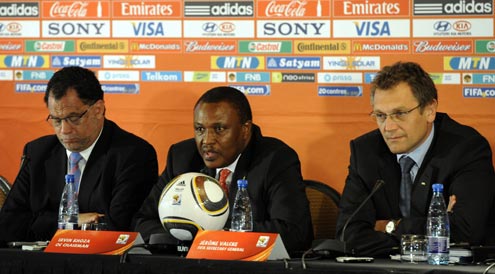 With few hours to the deadline given to the Federal Government of Nigeria to rescind its decision on the withdrawal of the country's national team from international football tournaments for two years, Nigeria's Dr. Amos Adamu will hold a crucial meeting with FIFA President, Joseph Sepp Blatter this evening.
P.M.Sports gathered early today that Adamu, who was due back in South Africa from an emergency trip to Abuja yesterday, where he went to advise the presidency on the implication of Nigeria's decision, will brief the Blatter-led world football governing body at its secretariat in Johannesburg.
FIFA had handed Nigeria a 48-hour ultimatum yesterday threatening to ban the country from its activities should the FG fails to reverse its decision before midnight.
In a warning sent to Nigeria, FIFA clearly stated that government interference in the administration of soccer is not tolerated and that Nigeria's action to withdraw the Super Eagles from international tournaments attracts expulsion from the body.
Shortly after the FG made public its decision on both the national team and NFF, Adamu, a CAF and FIFA Executive Committee member expressed fears  that the country may incur the wrath of FIFA should President Goodluck Jonathan and other National Executives fail to withdraw the self imposed ban on the national team.
Top on the issues lined out for discussion between Adamu and the FIFA executives later today is finding an amicable settlement to the imbroglio rocking the football house in Nigeria.
Already, the presidency has ordered a probe into the activities of the Nigeria Football Federation, NFF while the government wants all accounts of the body investigated, especially Nigeria's participation at 2010 World Cup, where the Eagles flopped.
In a bid to assure the world that the government meant well for football development in the country, Sports Minister Isa Bio said Nigeria is ready to involve FIFA in the reorganisation process of NFF.
Bio, who alongside President Jonathan watched the dismal performance of the Eagles in South Africa, pleaded with FIFA to assist Nigeria in her plans to outrightly sanitise the alleged fraud in the football house.
''The activities of NFF must be investigated but we hope to do that with the cooperation of FIFA to avoid any violation of football rules and regulations''. The minister said.
Meanwhile, the Nigerian government plans to inaugurate an 11-man committee that will take charge of the country's football affairs in the absence of the banned NFF on Monday in Abuja.
Tunde Oyedele/SOUTH AFRICA
Load more