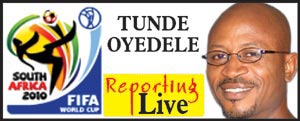 Nigeria's President, Goodluck Jonathan this evening bowed to pressures from both the country and international community, reversing his decision to withdraw the Super Eagles from international competition until 2012.
The president's decision beat today's 6 p.m deadline given by FIFA to Nigeria to either rescind the withdrawal or face expulsion from the body and its programmes. The Committee on Sports in the Nigerian House of Representatives also mounted pressure on the presidency to unban the Eagles, saying the decision was not in the interest of the country's football.
FIFA, which sent a warning letter to Nigeria had stated in clear terms it does not want interference in the administration of football. A spokesman of Jonathan had announced the shock withdrawal of the national team from international competitions on Friday following Nigeria's dismal performance at 2010 World Cup in South Africa.
The Nigerian team, led by Swede Technical Adviser, Lars Lagerback ended Group B campaign on the last spot with just a point and did not win a match. This annoyed the presidency, which ordered an immediate suspension of the team.
In a dramatic move to salvage the situation, the Executive Committee of the Nigeria Football Federation, NFF weekend impeached its President, Alhaji Sani Lulu, first vice-president Amanze Uchegbulam and Technical Committee boss, Taiwo Ogunjobi for alleged financial misappropriations.
FIFA President, Joseph Sepp Blatter, who spoke to journalists at the Sandton Covention Centre in Johannesburg this afternoon maintained that his body would meet on the situation in Nigeria tomorrow and come out with its decision thereafter.
By Tunde Oyedele, Johannesburg
Load more