Dimeji Bankole, the Speaker of the House of Representatives today apologised to the students of City Royal Secondary School Nyanyan, Abuja, Nigeria, who were on excursion to the lower chamber of the National Assembly on Tuesday, 22 JUNE when a fracas broke out between the lawmakers.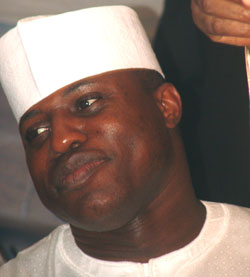 This was after the presence of the students who were in the House to witness live the proceedings in the House was acknowledged by the Speaker.
But rather than observe the process of lawmaking as the students had intended, the students witnessed lawmakers engaging in fistcuffs as some rep memebrs were forcefully dragged out of the chamber and during the process getting their clothes torn.
But during a visit to the school today in Abuja, Bankole told the students that the rumpus they witnessed was as a result of attempts by some members who refused to follow due process to disrupt proceedings in the House.
He however promised the students that the dispute in the House will be resolved amicably.
—Oluokun Ayorinde/Abuja
Load more