Speaker of the Lagos State House of Assembly, South-West Nigeria, Rt. Hon. Adeyemi Ikuforiji, has accused Nigerian leaders and politicians of wasting the country's hard-earned money on frivolities. He also said most politicians do not learn from history.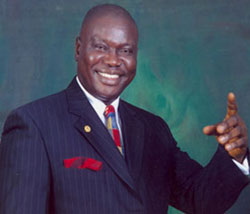 The speaker lashed politicians for neglecting their duties as leaders of the country and described the national honour given to prominent Nigerians by the Federal Government as a jamboree.
Ikuforiji, who addressed a mammoth crowd that visited the Assembly complex to mark its third anniversary and the premiere edition of the Legislative Lifetime Outstanding Performance Award (LLOPA 2010), explained that due to the greedy nature of some politicians, the country's democracy has been given different meanings.
An award was given to the first civilian governor of the state, Alhaji Lateef Jakande.
"In our clime, democracy has been given different strange interpretations and meanings. People in government spend public funds celebrating what they were not elected to do, thereby dissipating the hard-earned tax-payers funds on conspicuous consumption and frivolities.
"We have observed with great regret that the things we ought to do have been left undone and those whom we should honour and immortalize have been relegated to the background," the Speaker said.
Due to this, Ikuforiji said the House decided to begin the LLOPA award by recognizing the uncelebrated performance of Alhaji Jakande, whose achievement as governor, he reckoned, has not been surpassed by any other governor.
He added that the House would not wait for the octogenarian to pass on before bestowing the recognition on him.
"It is so disheartening that Jakande has not been accorded the kind of recognition he deserves even here in Lagos. We behave as if we have no sense of history, or maybe we have forgotten all his long suffering and labour of love for the people of Lagos.
"It is this elder statesman that should be emulated, celebrated, as our role model and on which we should pattern our lives in public service," the Speaker asserted.
While recounting the achievements of the former governor, the Speaker said there was no record that he stole public funds. "He did not carry out elitist programmes or rob Peter to pay Paul, but he worked assiduously to touch the lives of the down-trodden positively," he said, adding that when Jakande took over from the military government in October, 1979, there were only 605 primary schools with a total of 434, 545 pupils and 105 secondary schools with a population of 107, 835 students.
"In two years, that is by October 1981, the number of primary schools rose 812 with 533, 001 pupils and the number of secondary schools rose to 223 with 167, 629 students. Between March and August 1980, he constructed 11, 729 classrooms, the standard adopted was maximum of 40 children per class.
While lamenting that the former governor has not been given a pride of place in Lagos State, he said: "We behave as if we have no sense of history, or maybe we have forgotten all his long suffering and labour of love for the people of Lagos State."
He said the former governor's life has taught him that the purpose of public service is to serve excellently and to be truthful and deliver the dividends of democracy.
Jakande, who was presented with a Toyota Avalon salon car, 2010 model with registration number LKJ 1, expressed his appreciation to the House for the honour accorded him.
He also offered prayers for the House.
The event was witnessed by the former governor of Ogun State, Olusegun Osoba; former governor of Ekiti, Niyi Adebayo, the State Deputy Governor, Princess Sarah Sosan, Senators Olorunnibe Mamora and Ganiyu Solomon.
Others at the event included Osun State Action Congress governorship candidate, Rauf Aregbesola; former Senator Biyi Durojaiye, Otunba Gani Adams, the state AC Chairman, Henry Ajomale, among others.
—Eromosele Ebhomele
Load more