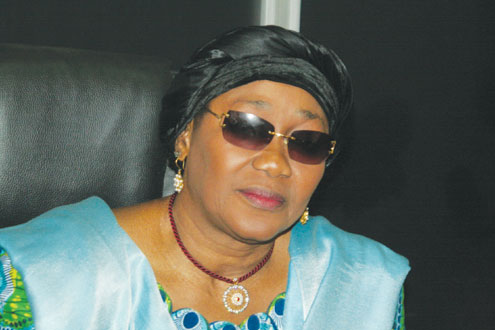 The Economic and Financial Crimes Commission, EFCC, will on Thursday, July 8th, 2010  arraign Mrs Ngozi Anayo Mgbeke, a sister-in-law to the Enugu State Governor,  Sullivan Chime , over an eight count charge of obtaining money under false pretences; forgery and altering at the Federal High Court 1,  Enugu, Enugu. She will be docked before Justice Muhammed Bello.
Mgbeke was arrested by operatives of the EFCC  more than a year ago over her fraudulent dealings and obtaining over N14 million under false pretences after which she was granted administrative bail,  preparatory to her prosecution.
However, in a disturbing twist, she jumped bail and had been failing to keep date with the Commission's instructions.  Unmoved by her tricks, the Commission went ahead to arraign her in abstential on June 9th , 2010 at the Federal High Court 1, Enugu , where she made a dramatic appearance.
Her counsel, C. Arinze- Onyia Esq., made another dramatic move by filing  a preliminary objection to the charges preferred against her and prayed the court to quash all the charges, even before being arraigned.
Surprised, the EFCC Counsel, J.A. Ojogbane, drew the attention of the court to the fact that the accused person actually jumped bail and was to be arraigned before the court.
He described the objection made by the defense counsel as an ambush and urged the court to remand the accused person in EFCC's custody pending the time the court will rule on the defence counsel's objection to her arraignment.
He further informed the court that the defence counsel was a principal prosecution witness and wondered how such a counsel can hold brief for Mgbeke. He therefore prayed the court to rule against the representation of the accused person by the defence counsel.
The defencse counsel countered that the law allows him to represent his client,  irrespective  of the position of the prosecution and that his objection to the arraignment of his client should be considered before any plea could be taken.
In deference to the defense counsel, the court took one hour break and later resumed to rule on the objections. In his ruling, Justice Bello held that C. Arinse-Onyia Esq. cannot represent Mgbeke as a counsel and still be a prosecution witness.
He adjourned the case till 8 July 8, 2010 and declined to grant the EFCC the custody of the accused person.
Load more