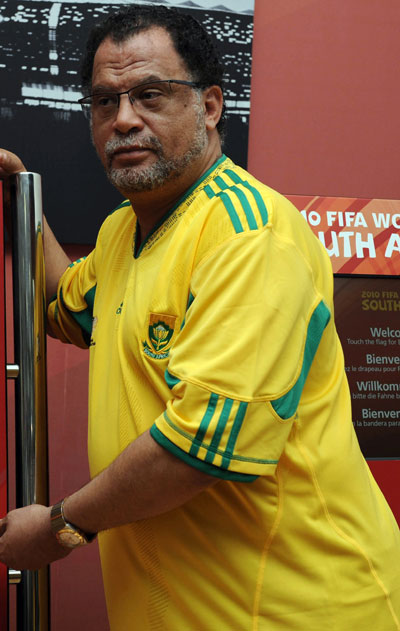 South African 2010 FIFA World Cup Local Organising Committee, LOC CEO, Danny Jordaan, in this interview with Tunde Oyedele in Johannesburg, gives the panacea for a better future for teams from Nigeria and rest of Africa.
FIFA appears pleased with your country's organisation of the World Cup this year, how do you feel about that?
I'm happy about the success achieved so far by South Africa. I think we have proved to the world now that Africa is a viable continent. We have done well so far and that's what FIFA confirmed to the participants.
There were security concerns in South Africa before FIFA gave your country the go ahead?
Oh yes, but everyone has seen it now that our country and indeed Africa is not as dangerous as the world thinks. Our security operatives have given a good account of themselves and I'm sure the world can't ask for more.
As the CEO of the first World Cup to be staged in Africa, will you say the six teams, including Bafana Bafana gave the continent a good representation?
Ah! I don't think so. Our teams from Nigeria, Cote d'Ivoire, Cameroon, Algeria and ofcourse the Bafana Bafana did not live up to expectation. Ghana tried by reaching the quarter final stage but generally, Africa did not measure up with the standard required.
What did you see as Africa's major problem in the tournament and the way forward?
Yeah, Nigeria, South Africa and other teams from Africa must focus on a plan that will see them invest in youth and their own coaches. Generally, Africa must realise that it is no longer time for prayers and hope but for a clear-cut plan of how to prepare in the next four years to make an impact at the 2014 World Cup in Brazil. It is no longer time for praying and hoping but time for a clear-cut plan that will run for the next four years and culminate in the continent doing well at the 2014 World Cup.
Don't you think that Ghana performed better because of their youth development?
I think so, all the countries that made it to the last eight, including Ghana, had previously done very well at junior international level and were mostly coached by local coaches. The fact remains that well-trained and suitably qualified coaches and well-developed players are the answer to the continent's dilemma in international football. Time has gone when our teams must rely on only prayers to perform in football tournaments, there must be serious planning and Africa need to take their fate in their own hands and not in foreigners. There is little that CAF can do. To some extent the national associations can do very little apart from appointing the right coaches. Once the coach has done his job, taken the players through training, given them tactics, there is also little that he can do, as during the match he sits on the bench and the executives watch from the pavilion. So, its left for the 11 players on the field to finish up the job, by playing to instruction and confront their opponents with the determination to succeed.
How do you see the climax of Ghana's ouster?
I must confess, that clash was determined by fate. I congratulate Ghana for getting to the quarterfinals. It is just unfortunate that football is so unpredictable. It was fate which saw Asamoah Gyan, who took the penalty and played the ball against the crossbar. This is the same player who had already scored twice from the spot before in this tournament.
There are fears FIFA may be forced to reduce Africa's slot because of their poor outing in 2010?
Well, I think issues of number sometimes count a little as Europe had 13 representatives at the beginning of the tournament but are now left with three among the last four going to the semi final from Tuesday (today). Conmebol are left with three out of the five which started, with Chile having been eliminated by Brazil, Concacaf had three who are all out, and Asia's four have suffered the same fate.
Can we say the great Brazilian legend, Pele got it wrong when he said an African team would win the World Cup before year 2000 or at this year's edition?
I believe Pele knows nothing about football. His analysis always turn out to be wrong. If you want to win a title you have to listen to Pele and then do the opposite. Africa's failure has led to fears that it might affect its five slots at the event and that's the truth.
Load more