Twelve years after the death of business mogul and politician, Chief Moshood Kashimawo Abiola, MKO, Nigerians today honoured him for paying the supreme price for the nation's democracy and called for free and fair elections next year.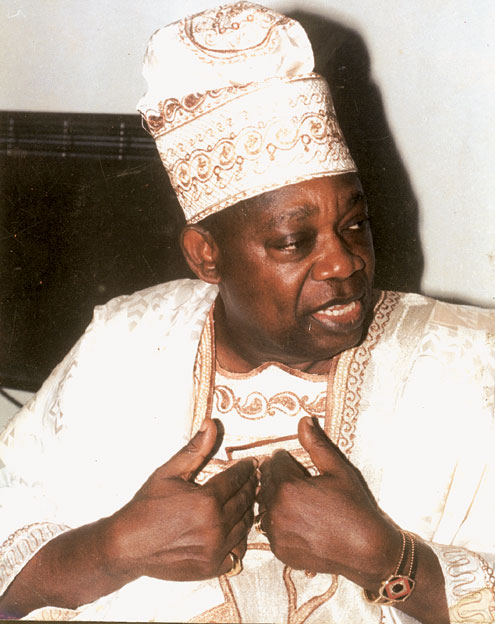 Abiola died on 7 July, 1998 in a suspicious manner while fighting for the actualisation of the 12 June, 1993 presidential election which he won and was annulled by former Military Head of State, General Ibrahim Badamasi Babangida, IBB.
Constitutional lawyer, Prof. Itse Sagay said Nigerians needed to struggle in order to get the democracy they need through free and fair election, saying that the world over, democracy is key to moving the nation forward.
"If Abiola had lived, nobody will be talking about nascent democracy, our democracy would have been consolidated if his election had not been annulled," he said.
Lagos lawyer, Festus Keyamo stated that Nigerians were drinking from the cup of sacrifice which Abiola drank and called for his immortalisation.
"The Federal Government must find a way to immortalise him. Even IBB had said Abiola deserved to be honoured while Prof. Humphrey Nwosu agreed that Abiola won the election. Abiola must be given posthumous award," he said.
Keyamo said that Abiola's death would be in vain if the nation could not conduct free and fair election that would produce good governance next year.
Mr. Chris Akiri, Solicitor, Supreme Court said Abiola died the death of a hero for democracy to take its root in the nation.
"He died the death of a courageous man and he never wavered in  his decision to pursue his mandate. He paid the supreme price and we enjoy democracy today because of the price Abiola paid.
"It is high time the Federal Government immortalised him; a national monument should be named after him," he stated.
Action Congress, AC, House of Representatives aspirant in the coming election, Otunba Niyi Raheem said Abiola represented a symbol of struggle and that he would always live in our mind.
He called for free and fair election where the vote of the people would count next year as the only way to remember what he died for.
Comrade Debo Adesina, founder, Coalition Against Corrupt Leaders, CACOL, lamented that the nation had still not learnt a lesson to organise free and fair election, saying that tyranny and corruption still held sway in the country.
"We still miss Abiola; for him to have sacrificed his life is what we have to put in our mind. He had paid the supreme price and he should be remembered all the time," he said.
AC Publicity Secretary, Lagos State, Mr. Joe Igbokwe, lambasted IBB for annulling the 12 June, 1993 presidential election, saying that the reasons IBB gave for annulling the election never held water.
"Now, IBB knew that 14 million Nigerians voted on June 12, 1993. IBB knew candidates went from wards, local governments, states and to the national level and both government and security agencies raised no objections.
"IBB knew the allegations of offering of bribe could not be substantiated and remained a mere figment of his own imagination. IBB knew that he can never set an agenda for the man who won the Presidential election, as the buck stops on his table. IBB could manufacture a million reasons or excuses for the criminal annulment but the world knew then that they cannot hold water," he said.
Igbokwe lamented that "today, the same IBB who brought Nigeria so much sorrow, agony, pains, tears and bloodshed wants Nigerians to reward him with their votes to become an elected president in 2011. This is an absurd, unbelievable, awkward, misnomer, unthinkable, insulting, and arrogance. IBB may have considered all Nigerians as fools. We will wait for him at the polling stations.
"Nearly 15 years after, the then Chairman of National Electoral Commission, (NEC) Professor Humphrey Nwosu came out from his hiding to tell the world that Chief MKO Abiola won the election fair and square. From Prof. Nwosu's account even though belated, it is crystal clear that Chief Abiola, his wife Kudirat and many others who died during the crisis were murdered with the instrumentality of the state for no just cause.
"The state through petty jealousy, and whiff of arrogance, supported with morbid primordial sentiments destroyed Chief Abiola and his huge business empire for winning an election in a nation where some people feel they are the masters and others slaves."
Igbokwe contended that the time had come for the nation to come to terms with that criminal annulment of June 12, 1993 election, and the murder of Abiola in 1998, and do something about it.
"Free and fair elections may still continue to elude us if we fail to reflect on what happened in 1993 and make amends. Since it was the state that murdered Chief Abiola, the state is supposed to lead the way to restitution in order to console Chief Abiola's family and his teeming supporters.
"I am of the opinion that if this country must move forward democratically, Chief Abiola must be accorded posthumous presidential recognition, his name immortalised, compensation paid and wounds healed," Igbokwe added.
—Kazeem Ugbodaga
Load more