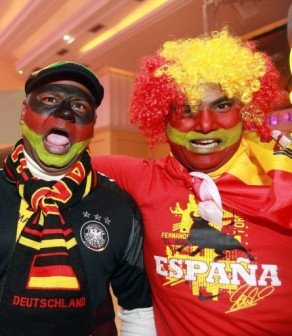 90+4 mins: FULL-TIME! Germany 0 Spain 1
90+2 mins: One last push for Germany but Lahm's cross is weak and man-of-the-moment Puyol clears. Alonso is off and Carlos Marchena is on.
90+1mins: Spain are playing this out with relative ease at the moment.
90 mins: We enter stoppage time and Germany are pinned in their own box. Three added minutes to play.
89 mins: Torres breaks again but is tackled just as he is about to pull the trigger. The corner wastes precious time though.
87 mins: Germany are lumping balls into the area, but Spain look solid. Torres has the chance to break but plays a poor pass to no-one.
84 mins: An Ozil free-kick causes mild panic in the Spanish area but it's cleared. Puyol takes out Schweinsteiger on the edge of the area but it's not given, somehow. It was a little theatrical but was surely a foul in a critical area.
Another change for Spain as David Silva replaces Pedro.
82 mins: Oh dear Pedro! He's through with Torres for company, but for some reason tries to beat his man instead of passing and falls over the ball. That could be very costly.
81 mins: Mario Gomez comes on for Germany, replacing Sami Khedira. Raised eyebrows as David Villa is replaced by Fernando Torres. Obviously not planning for extra-time then!
77 mins: For all their passing and intricacy it's a bog-standard dead-ball which puts Spain to within touching distance of Johannesburg.
Gemany have responded positively and are putting on the pressure, but Spain have lots of space to counter.
76 mins: Here we go then, how will Germany react? They have a free-kick which Casillas does well to claim with Klose lurking.
73 mins: GOAL! Germany 0 Spain 1
71 mins: Suddenly Germany look the more likely as a couple of really dangerous crosses are repelled by Gerard Pique.
68 mins: Germany bring on Toni Kroos for Piotr Trochowski and he nearly scores with his first touch. Podolski's cross from the left wing finds the 20-year-old but his guided volley is saved by Casillas.
67 mins: Capdevila again blows a good crossing opportunity before Villa tests Neuer with an angled drive.
63 mins: That's one penalty shout each and again Ramos is involved, but this time at the other end. The defender strains to reach a curling cross but it is too far in-front of him, although Podolski's clumsy lunge didn't help.
He wouldn't have got there but it was risky.
61 mins: Gemany are nothing but resolute, immediately going up the other end and fashioning a half-chance for Klose, but he can't guide his volley on target.
This is bubbling up really nicely as we enter the beginning of the end-game
59 mins: This is more like it from Spain. First Pedro hits a shot from the edge of the area which Neuer beats clear. From the rebound, Iniesta drills a low ball across the six-yard box which Villa is just too short to reach.
Pedro then has another effort just wide. They smell blood.
58 mins: Apologies for the break in action, a slight glitch on the information super-highway. No goals, and not too much action, but to see what did happen scroll down.
54 mins: Spain can't be too far from making a change either, they don't look like converting pressure into goals. David Villa has a slight opening on the edge of the area, but his tame effort bobbles wide.
51 mins: Surprising substitution for Germany. Jerome Boateng is mystified as his number is raised and Marcell Jansen comes on in his place.
Perhaps coach Loew thought Spain were getting too much joy down the right flank, but it didn't look that obvious from here.
48 mins: The impressive Pedro evades multiple flailing tackles before teeing up Alonso on the edge of the box, but the Real Madrid player scuffs his shot wide.
The midfielder is much closer moments later as his rasping drive from Xavi's lay-off is a couple of inches wide with Neuer well beaten.
46 mins: Spain get us restarted for what promises to be a dramatic half of football. They signal their intent with an aggressive move from the kick-off, but Germany resist.
1923 GMT: Dutch legend and BBC pundit Clarence Seedorf is impressed with the Spaniard's work-rate.
"It was so clear the game plan was to try and get a fast goal," he explains. "There were seven players forcing the German defenders into playing the long-ball. They tried it for 20 minutes, but it's so difficult to keep that going for 90."
Despite the lack of goalmouth action, ex-Scotland defender Alan Hansen is relishing the encounter.
"There's so much to admire," he says. "The way the Spanish are dominating and the way the Germans are waiting to spring the counter. The longer Spain don't score the more Germany will fancy it."
45+1 mins: HALF-TIME! Germany 0 Spain 0
Not a classic but it's bursting with potential, one goal either way will change the pattern of play massively.
45+1 mins: Ozil is put in by Klose, but goes down easily under Ramos's tackle. There was some contact, not much, but it could have been given.
Ozil stopped and waited for the tackle, maybe he should have just tried to score.
44 mins: Great harrying high up the pitch from Sergio Busquets ends with Pedro getting space in the area, but he tries one too many twists and is tackled.
41 mins: Joan Capdevilla has two great opportunities to cross, but one is underhit, the other overhit.
Xavi has a chance to show how it's done from a free-kick. Instead he plays it short and, not for the first time, Spain lose the ball after over-doing it.
38 mins: Bastian Schweinsteiger is yet to pull the strings the way he did so effectively against England and Argentina, but Germany are giving as good as they get at the moment.
37 mins: Podolski strays offside. If he had just held his run he would have been clear as Ramos, who nearly played him on, had no idea where he was.
34 mins: Ozil wins a corner as Germany begin to string some passes together. Casillas is forced to punch clear twice in 30 seconds.
Spain break but Iniesta tries to be too intricate with his through-ball and it's intercepted.
31 mins: Piotr Trochowski sparks Germany into life, trying his luck from 30 yards out, but Casillas is down smartly to save. The resulting corner is threatening but ultimately comes to nothing.
30 mins: He's back on, but running very gingerly. Xabi Alonso has a long-range shot but it's comfortably wide of the target.
28 mins: Lukas Podolski is on the receiving end of a nasty tackle by Xavi which has him writhing in agony. A bad few minutes for Lukas, he's misplaced a few passes before being forced to limp off.
24 mins: The German media branded their 2008 Euro defeat as "death by a 1000 passes." Spain are trying the same tonight, but don't look quite as threatening when they reach the danger zone.
Ramos almost gets past Jerome Boateng, but is tackled, a little unfairly he believes. A minute later, Ramos's cross is mis-kicked by Pedro.
23 mins: Miroslav Klose sparks to life, but is dispossessed in the area just as he was sniffing an opportunity.
20 mins: One question this Germany team have not answered is whether they can pull themselves back if they go behind.
They couldn't in their loss against Serbia, and the way they are set up, you feel it could be tough for them if Spain open the scoring.
19 mins: A very optimistic effort from Sergio Ramos is high and wide. He didn't really have many other options though.
18 mins: Germany try to apply some pressure, but it seems forcing the pace of the game isn't their forte as they give it away when faced with a wall of Spanish defenders.
16 mins: Germany regroup and force a corner which Iker Casillas just fingertips to safety.
13 mins: Another chance for Spain. A short corner is worked to Andres Iniesta, who fires in a vicious cross which Carlos Puyol heads over the bar from six yards out. In defence of the long-haired stopper, it was a very fast ball into the box.
11 mins: Spain are probing in and around the area but to no avail as yet. Mesut Ozil is flagged after being put through. Replays show he was onside.
9 mins: Spain have started much the stronger, but Germany have shown their ability to absorb pressure before counter-attacking to devastating effect time and time again this tournament. The first goal is so important.
6 mins: The first chance falls to Spain. Pedro plays a ball through the back-line but David Villa's shot is beaten out by the advancing Manuel Neuer Germany's goal.
2 mins: Spain quickly commandeer possession and immediately settle into their hypnotic short passing routine.
Just as Germany win the ball back an intruder sprints across the pitch and halts the game. You would've though he'd at least get his money's-worth before getting kicked out!
1 min: Germany, in white, kick-off against a Spain team wearing red shirts and blue shorts.
1825 GMT: The players and their assigned mascots are out.
Germany are first to sing their anthem, arms around shoulders in a show of unity.
Spain also opt for the collective hug. They don't sing because there aren't any words.
1819 GMT: German fans are trying to decipher conflicting pre-match omens. Paul, the infamous psychic octopus who has successfully predicted every Germany result so-far, has plumped for Spain, but….
….manager Joachim Loew will be wearing his infamous blue pullover, which the nation has adopted as a lucky charm. "Yes! Jogi's got the victory jumper on!" is today's headline in the mass circulation Bild newspaper. Apparently the 200 euro fashion item is flying off the shelves in Germany.
1814 GMT: This from AFP's Richard Carter on the streets of Berlin. "The party is already beginning on the 'fan mile', with more than 100,000 supporters turning a long stretch from the city's famous Brandenburg Gate into a heaving mass of black, red and yellow," he says.
"According to television reports, as many as 400,000 people are expected to cheer on the Mannschaft tonight as they bid for World Cup glory."
1810 GMT: From the "only in Berlin" department. "A church in the hip, ethnically diverse district of Kreuzberg is offering a unique, vuvuzela-free viewing experience for the match," my AFP colleague Mathilde Richter in the German capital says.
"Fans can watch the game on a giant screen but with the sound switched off — accompanied instead, silent movie style, by solo organist Carsten-Stephan von Bothmer.
"Von Bothmer has a vast repertoire up his sleeve, with just the right dramatic chords to go with dribbling, shooting and precious goals."
1808 GMT: BBC pundit and former England striker Alan Shearer is not surprised by Torres's omission, but did not expect Pedro to be the replacement.
"When they've brought Torres off before they brought on Fabregas or Llorente and they did well, but they've gone for Pedro, it's a bit of a surprise," he says.
"But for me, Germany have been the team of the tournament. They look well drilled, a well-oiled machine and the perfect team in the last couple of games," he adds.
1805 GMT: Torres runs out of time! Vicente Del Bosque loses patience with the Liverpool forward and he is relegated to the bench to be replaced by the speedy Pedro.
Germany make one enforced change. The impressive Mueller misses out due to suspension,  Hamburg's Piotr Trochowski is the lucky replacement.
1800 GMT: Here are the starting line-ups:
Germany: Manuel Neuer, Philipp Lahm, Arne Friedrich, Per Mertesacker, Jerome Boateng, Piotr Trochowski, Sami Khedira, Bastian Schweinsteiger, Lukas Podolski, Mesut Ozil, Miroslav Klose.
Coach: Joachim Loew
Spain: Iker Casillas, Sergio Ramos, Gerard Pique, Carles Puyol, Joan Capdevila, Xabi Alonso, Xavi, Andres Iniesta, Sergio Busquets, Pedro, David Villa.
Coach: Vicente Del Bosque
Referee: Viktor Kassai (Hungary)
WELCOME TO THE MOSES MABHIDA STADIUM IN DURBAN for our live World Cup text commentary as the sparkling Germans vie against pre-tournament favourites Spain for the right to meet Holland in Sunday's final.
The tantalising semi-final is a rematch of the Euro 2008 final which was won 1-0 by Spain, star-striker Fernando Torres notching the winning goal.
However, two years is a long time in football and Germany, following their 4-1 and 4-0 knockout wins against England and Argentina, are now considered the irresistible force of flair while Spain, and Torres in particular, have struggled to rediscover their former potency.
Germany striker Miroslav Klose is only one goal away from joining Brazil legend Ronaldo as all-time leading scorer in World Cup finals, while David Villa is the same margin away from equalling Raul's record as Spain's top-scorer.
To see if Miroslav can fire Germany closer to their fourth triumph, then join us for kick-off at 1830 GMT to find out.
Load more