Former skipper of Nigeria's Super Eagles and Bolton Wanderers FC of England's captain, Austin 'Jay Jay' Okocha has admitted that the rot in Nigerian football calls for serious scrutiny.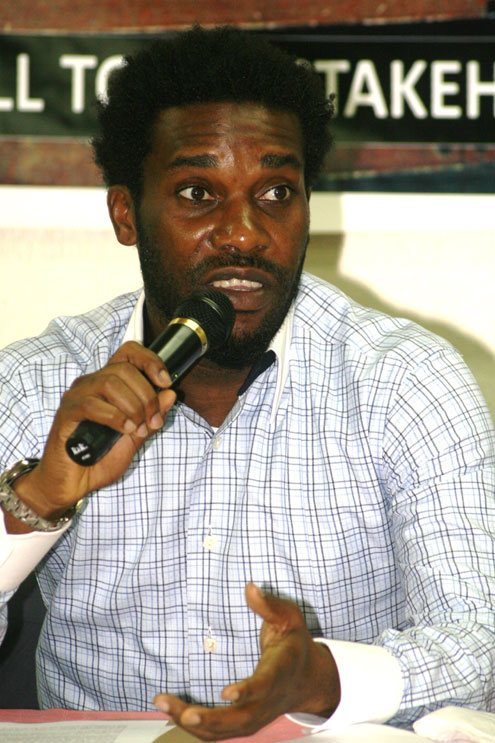 The former PSG Football Club of France's midfielder said the threat by the Federation of International Football Association, FIFA, to sanction Nigeria following the two-year ban on all national teams by President Goodluck Jonathan has shown that the country's football needs a revolution to save Nigerian youths.
The former Fernabache Football Club of Turkey player, who is still in South Africa as one of the legends invited by the World Cup organisers said: "It is very sad and annoying that with the quality of talents Nigeria can boast of, the country still struggles to find her rhythm among football nations of the world.
He noted that if FIFA had succeeded in banning Nigeria, it could have been a big blow that would have ruined the dream of some young and enterprising footballers. "I think what happened was caused by the administrators who have failed to move football forward in the country. I must confess, it was very terrible with the way the Super Eagles performed here in South Africa. It is a disgrace. We have to face facts and do something drastic before the impending collapse. This is a sport that brought fame and fortune to many of us. Those at the helm of affairs are hell bent on killing the sport for us," said Okocha, who has the ambition of contesting in the next election of the NFF.
The former Hull City of England player said it is time ex-internationals like him took the mantle of leadership at the Glass House if the desired changes must be achieved.
According to the former Rangers International of Enugu star, "it is very clear that our administrators are not doing enough to improve football in the country. This is the time  our administrators should be drawn from the pool of ex-internationals if football must move forward in the country."
Meanwhile, Okocha, who yesterday was a guest analyst for the South Africa Broadcasting Corporation, SABC, during the first semi-final match between The Netherlands and Uruguay, said he foresees a final match between the Dutch team and Germany on Sunday.
He said that The Netherlands deserved to be in the final judging from the coordinated games they have been playing since the beginning of the World Cup in South Africa.
He predicted that the German machine would crush the reigning European champions Spain in tonight's second semi final match because of their approach to their previous games.
Load more