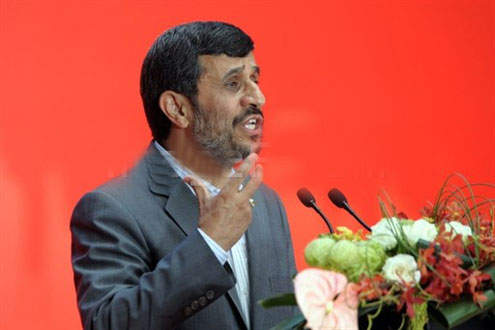 Iranian President Mahmoud Ahmadinejad on Wednesday called the United States a global dictator and lashed out at Israel after arriving in Nigeria to meet fellow Muslim leaders at a summit.
"They are the self-proclaimed leaders and everybody should know that self-proclaimed leadership is dictatorship," Ahmadinejad, referring to the United States, told an audience of hundreds at the Iranian embassy in Abuja.
"The era of dictatorship is over," he added through an official translator.
The Iranian leader, whose country was recently hit with new sanctions by Western nations over its nuclear programme, said "the occupiers … should dismantle their evil forces from the face of earth."
Ahmadinejad's appearance in the West African country, where Muslims make up an estimated half of the 150 million population, drew a rapturous welcome from the crowd, which chanted "Nigerians support Iran."
"We are going to put an end to the suffering of the people of Palestine," he said. "The Palestinian refugees will return to their homeland … soon we are going to celebrate our victory."
New UN sanctions were slapped on Iran last month, and both the United States and the European Union later took additional measures against Tehran unilaterally.
Western governments suspect Iran's nuclear programme is cover for a weapons drive, something Tehran has repeatedly denied, insisting it is aimed solely at power generation and medical research.
Ahmadinejad was in Nigeria to attend a one-day summit of the Developing Eight (D-8) group on Thursday in Abuja.
The Istanbul-based D-8 groups Bangladesh, Egypt, Indonesia, Iran, Malaysia, Nigeria, Pakistan and Turkey, with a total population of 930 million people. Turkish President Abdullah Gul also arrived in Abuja Wednesday for the summit, raising the possibility that damaged relations between Turkey and Israel following a deadly raid on Gaza-bound aid ships will be examined.
The D-8 was established in 1997 to promote economic ties and solidarity among member states.
Load more