"With a population of 150 million, Nigeria is not only Africa's most populous country, but preferred investment destination on account of its abundant natural and human resources," President Goodluck Jonathan said this while canvassing for investments among developing nations.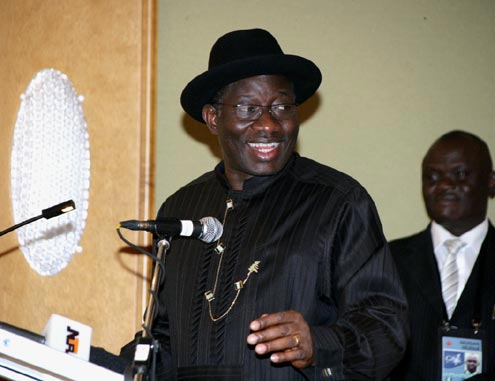 The President was speaking while declaring open the meeting of the D8 Group of countries this morning at the Banquet Hall of State House, Abuja.
In this regard, President Jonathan said he welcomed the proposal for the establishment of D8 Joint Investment Fund as a vehicle for expanding the scope and volume of trade and investment among countries of the D8 Group.
President Jonathan also said the development of the maritime business  is also essential if the $1.7 million inter-trade target between the countries in the group is to be met.
The theme of the summit which had gone into technical session as at the time of writing this report is 'Enhancing Cooperation Among D8 Countries'.
Honourable Tan Sri Muhyiddin, Deputy Prime Minister of Malaysia said the D8 has shown that cooperation is possible between Islamic countries, thus again raising the question of Nigeria's membership of the group since the country is not officially an Islamic country.
Ahmad Ahmedinajad, the controversial President of Islamic Republic of Iran who was present at this morning's session did not make a speech.
The D8 is an organization for cooperation among eight developing countries namely, Bangladesh, Egypt, Indonesia, Iran, Malaysia, Nigeria, Pakistan and Turkey.
The organization was established in Istanbul, Turkey on 15 June, 1997 for economic, commercial and technological cooperation among member countries
—Oluokun Ayorinde/Abuja
Load more