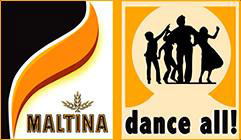 Ten exciting families, best trained choreographers, new dance steps, engaging and captive environment. These and many more are what Nigerians should expect as the fourth edition of the exciting Maltina Dance All (MDA), the family television reality show, begins.
Speaking at the unveiling ceremony held early this week in Lagos, Mr. Ageni Yusuf, Corporate Affairs Adviser, Nigerian Breweries Plc, said Maltina Dance All is the foremost experiential and sponsorship platform of the Maltina brand, renowned for promoting family values and bonding.
The MDA is a unique TV reality show where families strive to outdo each other through various types of dance steps from samba to salsa and others. It debuted in 2007 and has remained Nigeria's first and only family dance reality TV show, featuring families from various regions across the country.
The 2007 maiden edition produced the Onye family. In 2008, it was the Opuwari family that carted away the star prize and in 2009, the nation's best dance family was the Ibiams.
On what to expect from this year's edition of the show, Ageni said it is all about "unbeatable fun and the unbreakable bond that ten families will showcase when they will slug it out, learning and performing a variety of dance styles in the famous Maltina Dance All academy."
He added that the winning family will go home with the grand prize of N2.5 million and a brand new family SUV. The first and second runners-up will also get N1 million and N500,000 respectively, while the show will bring to the fore, the Nigerian families' essence and values of unity, cooperation, vitality and creativity.
There will be regional audition centres at Owerri, Benin, Enugu, Kaduna, Lagos and Abuja, between 22 July and 6 August, 2010, while registering on-line via www.maltinadanceall.tv.
Load more