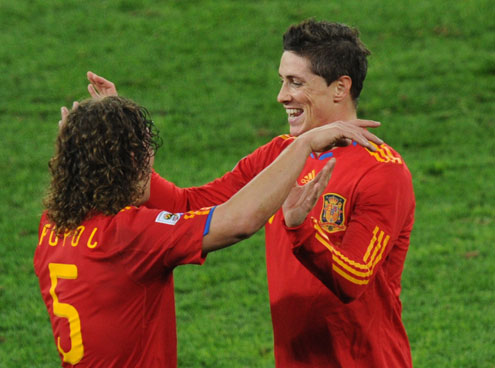 Former African Footballer of the Year, Liberia's George Oppong Weah says the World Cup final between The Netherlands and Spain will be a thriller on Sunday.
The final match and the closing ceremony of the ongoing World Cup will be held at the Soccer City Stadium in Johannesburg, South Africa on Sunday.
Though the former European and World Footballer of the Year had tipped Germany to beat Spain in yesterday's second semi-final match, he admitted that the Spaniards proved bookmakers wrong.
He said that considering the performance of the reigning European champions against the Germans,  Sunday's final would be explosive.
The former A C Milan striker singled out Carles Puyol, who has been consistent for both Spain and Barcelona Football Club, describing the defender's header, which sealed his country's place in Sunday's final as fantastic.
Puyol, who always overlaps, scored Spain's winner against Germany and Weah said the goal will remain in the memory of football followers for years to come.
According to the ex-international, who contested as president of his country, Liberia, "Puyol's goal is out of this World. I don't think that goal would be erased in the memory of football enthusiasts for a long time to come. It would be remembered for a very long time."
Meanwhile, restaurants and bars  in Durban and other cities in South Africa made a kill yesterday night after the Spanish national team booked their place in Sunday's final.
Our correspondent, who carried out a survey in some beer joints discovered that apart from the Spaniards who went on a drinking spree to celebrate their team's qualification for the final. Even South Africans joined in the party as they partied all night long.
The sale of barbeque soared as those celebrating could not drink without having something to eat. The fans were heard chanting Up Spain! Up Spain! Up Spain! You are the Champions!!!
Load more