He is notorious for being a niggling rapper and he is not shy about it. Talented rap music star, Eedris Abdulkareem has been trying to still the storm in his plummeting career, but it seems he is far from receding from some of the acts that landed him in trouble some years back.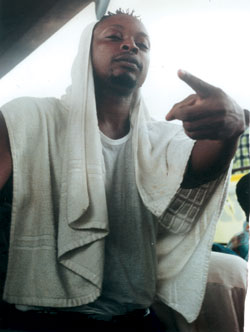 The ex-Remedies was among a number of celebrities who were at the album launch of The Pulse held last Sunday at the La Cachette, Ikeja GRA, Lagos, Nigeria. His presence and conduct at the event did not only generate interest from the media but also other guests.
Showbiz Trends witnessed a rogue act displayed by Eedris that night.
In order to ensure the safety of   guests' vehicles were parked inside the hang-out, the security men had issued tags to those who had parked their cars in the designated car parks and when Eedris was about to leave the show, the security guys refused him exit from the place without the tag and in an undignified manner, the rap musician alighted from his car and shouted on top of his voice with a bottle in his hand, threatening to deal with the guys if they failed to open the gate for him.
Meanwhile, during the event, Eedris had stylishly begged some officials of the NB Plc who were at the album launch, over his shameful conduct when he fought  American rap music star, 50 Cent some years back, during the annual Star Mega Jam concert. He was begging for another chance from the multinational company, who usually spends hundreds of millions of naira to support the entertainment industry.
Unfortunately, these same brewery top shots witnessed that misdemeanour from the same Eedris, who, a source close to the company, said would have got a reprieve, but his attitude last Sunday may put that in jeopardy.
Load more