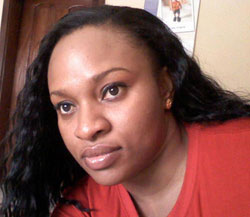 Househelps: how much we need them and at the same time wish we can do without them. Nigerian women have now given them the name, Necessary Evil. They are so important to us that we almost find ourselves feeling we can't exist without them.
No matter how much we try to feel we don't need them, one thing remains certain, we need them. Men have succeeded in making women have very bad feelings about these househelps. In fact, women now wish there is an alternative to them. Most women, I have found out, maltreat their maids, not because they are cruel and mean, but because of the man. These innocent girls now go through hell in the hands of their madams because of what men do.
A little girl is brought from the village to come and stay with a relation and help out with house chores. The next thing that happens is the man running all over the girl. He now begins to close early from work just to be able to get home and finish his evil assignment before the woman comes in.
Men no longer know what shame is. It is unfortunate that the government is not really fighting hard to deal with this issue. The Police in Nigeria are also making matters worse. When a girl runs to them for safety, all they do is take advantage of the poor girl and make life more miserable for her. I remember coming across a story about a 10 year old girl who was raped to death by a policeman that rescued her from the hands of one of those insane men.
Back to the issue at hand. I remember my little sister, at the age of twelve, being sent out of the house because she refused to give in to the devilish demands of a man old enough to be her father. This little girl was so tortured and life was made so miserable for her because she stood her ground. She couldn't talk to anybody, not even me, her elder sister because of her age. It got to a point that this little girl was accused of stealing N50k and sent out of the house during her junior WAEC exam. I thank God today, she is married with a baby boy and works with an oil firm.
My sister's case could have been different from those of our househelps. Some of these girls die in silence. So many of them have been so abused by these animals called men. So many of our little househelps are living with terrible diseases they have no control over. My heart bleeds for the number of little girls going through hell in the hands of their taskmasters. They have nobody to run to. Most of them can't even find their way out of Lagos. These ones cry every night while we are asleep. They roll on their beds every night (if at all they have one to sleep on), asking God why. When are the men going to turn back from their wicked ways?
It got to a point where I was changing househelps every three months without knowing why. I became so ashamed of myself believing people would have tagged me wicked. I don't beat househelps; they sleep in my room sometimes. They use my things as they like. I enrol them in private schools, In fact, I treat them like my siblings and sometimes better. But after all these, they still leave.
It was only when a particular one who was so tough and refused to be intimidated opened up to me that I got to know what was happening. Yes, as usual she was beaten alongside me and was sent packing. But I thank God that finally, in my innocence, I got to know the source of my problem. Some of these girls were raped and disvirgined right under my roof.
After she left, I brought another one and this time, a more matured one. I had to go for her to avoid putting little girls' lives at risk. Things didn't work out as imagined. She turned out to become the madam of the house. Oh, the helpless little girl I was, I couldn't talk and not even my mother knew it. I went through years of agony. My bedroom was taken over during the day by the new madam. I remember pounding "fufu" for a brother-in-law with eight months pregnancy while she relaxed upstairs in her room. I thank God that I saw the end of them all.
Some of you may feel she is trying to be vindictive. If you know me too well, I don't count wrongs, but even when I am invited to speak to people, I use my own life as a case study. I am one Nigerian who lives a very open life. I don't play games and I don't try to polish words. This is one column that will bring out so many hidden things about Amara. She is young, yes, but she is a pool of experiences –the good, the bad, and the ugly. Sure a time will come, by God's grace, when you get to read everything about me, from birth till date.
I am not the only one that has gone through this ugly experience; so many women have their own stories to tell. Some lady sent me a text telling me how her husband sleeps with her house help and even buys her sanitary pad for her. I have a meeting with this particular lady next week and I promise telling you more after that.
Househelps have been sent to the village and disowned by their parents for getting pregnant in Lagos. So many of them have died in the process of labour. Men, it is better you cry to God for mercy because you can't escape the wrath of God when it comes. A little girl that was sent to you for help and proper upbringing ended up being destroyed by your inability to control that small thing in between your thighs, maybe it should be cut off.
Some men don't come from the intimidation angle. These ones try to be too nice to the girl. They try to win the girl over with love. Whenever the woman tries to shout on the girl, they instantly stand against her. You see some of them trying to pacify the girl whenever she is crying. Watch out, they are not just being nice and godly, there is something going on. A friend sometime last year told me how she got up one night during Christmas in the village only to find the husband by the toilet door having sex with the mother's house help.
I was severally threatened to be sent packing if a house help leaves the house. So many other women have been beaten and denied so many things because of a househelp. Most times you ask yourself to know if there is something you are not doing right. I don't know about others, but my own answer has always been "NO". I did everything a woman could do to keep her man. I worshipped and served him so much that people were even making mockery of me. But after it all, it was a househelp.
I remember living with a family friend after my SSCE somewhere in the east. This man was a typical example of wild beast. He couldn't come to me because of the respect he had for my father. But on a daily basis, while the good wife he has was out there in the gym or market, he returns early from work just to come and mess up with househelps. Some men now work from the home just because of the little girl. Some are now too nice to their wives, sending them on endless trips abroad. I keep wondering what they like in a small girl who cannot even wash her body. Anyway, I have found out they need serious deliverance that only Dr. Olukoya of the MFM can handle if not, what will make a serving Senator go for the driver's 13-year-old daughter.
There is also this other group that comes through the angle of not liking the girl. Every night, they complain and say a lot of negative things about the househelp that the woman begins to consider sending her away. The next morning she starts threatening the girl with every bad word, reminding her of the gutter she picked her from. When she is off to work, the same man goes to console the girl promising not to let her go. Under this situation, the girl, who dreads the thought of going back to her miserable and hopeless life, gives in.
Just last month, my sister-in-law came to my house with a little girl who was living with her friend and was sent to the village. This girl was sent packing for breaking the oga's head with a broken bottle. The man was constantly disturbing this girl every time the woman goes to work. On this fateful day, while the man pushed her against the kitchen wall, she saw an empty groundnut bottle, took it and hit his head. The madam had to send her packing to avoid more serious incidence in the future.
Men! Men! Men! Change your ways. You have ruined so many lives through your inability to have control over your ungodly desires. You dress so well and everybody calls you a gentle man without knowing that you are of all men most miserable. If you must sleep with a woman, why not stop destroying those young and innocent lives. Please go to the street and look for your type. That is why I say, build your self-esteem.
You may be saying today's article is not applicable to you because you are still very single. What about your sister's househelp? In case nobody has told you this, I want you to know there are innocent blood crying unto God for judgment on you and definitely, there is payback time, no escape. Even generations after, you will pay for your iniquity.
Load more