Chairman, Implementation Committee of the People's Democratic Party (PDP) in Oyo State, Alhaji Yunus Akintunde, spoke with GBENRO ADESINA on the crisis rocking the party in the state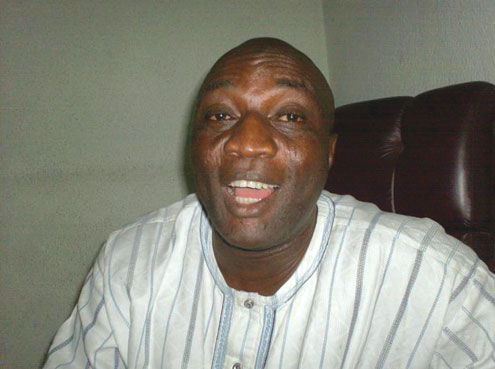 What is the present state of the PDP in Oyo State ?
We want the implementation of the Ike Nwachukwu report on PDP, Oyo State. The Independent National Electoral Commission (INEC) confirmed that there were no congresses in 2007 at the ward, local government and state levels. That necessitated the visit of Dr. Alex Ekweme's committee to the South West. The committee held a meeting in Abeokuta and we were there on invitation. The Ike Nwachukwu committee admitted that there was no party executive in Oyo State and asked the National Working Committee (NWC) to look into it. NWC formed zonal reconciliation committee headed by Shuaib Oyedokun. They came to Ibadan and held a meeting at the Premier Hotel. They also visited some leaders and held meetings with Senator Rasheed Ladoja and Governor Adebayo Alao-Akala. Upon their findings, the committee recommended a 15-man ad hoc committee which metamorphosed into an implementation committee. Initially, Alao-Akala gave the committee N2 million as take-off grant, while he approved a chalet at the Government House for them to have meetings. The leadership of the committee had the Oyo State SSG, Chief Olayiwola Olakojo as the chairman, former Chief of Staff, Yusuf Alli as the secretary and Kehinde Ayoola as the constitutional adviser. At this level, Akala was comfortable. It was when the committee metamorphosed into the steering committee which is the implementation committee and the number was increased to 19 to the knowledge of the late president, Umaru Yar'Adua, that fresh crisis erupted. It was Chief Yekinni Adeojo that wrote to the president that one slot out of 15 was not complimentary to him and the president asked Nwachukwu to see to that and his slot was increased to three. A slot was given to Senator Teslim Folarin and House of Representatives respectively. Also, Akala single-handed added Hon. Mulikat and Hon. Folake Osinowo-Olunloyo to the Elders' Forum. Chief Adigun Irawo was also included. Nwachukwu came to Ibadan to inaugurate these two committees at the Banquet Hall of the Government House and Akala was on the high table. Governor Goje, former Minister of Justice, Jerry Gana, former Minister of Transport, Ebenezer Babatope and other notable party members were there also. We all agreed up to that level. It was when they convened the first meeting and resolved that internal democracy should come to play, that Akala became uncomfortable, but leaders must be appointed to manage the committee's affairs. They didn't get the chairmanship of the committee they aspired for, but we magnanimously gave them secretary and financial secretary. There was no disagreement up to the point of electing the leadership of the committee until when they discovered that they could not get the chairmanship slot again and thus backed out.
What is the state of the suit filed by four members allegedly loyal to Governor Akala's faction to maintain the status quo?
The case is still pending in the court but it has no effect on the implementation committee.
Then, why is it that the committee has not started working?
When Nwachukwu's committee met with us after electing the officers, they said they will get back to us. That committee is responsible to NWC which had to consider the report and get the presidential approval. It is not only Oyo State that has problem, eleven other states in Nigeria have problems but those of Anambra and Oyo states are special because they have to do with court injunctions. Nwachukwu had objectively treated all the states, he had put up his decisions waiting to be proclaimed by NWC. I am sure with the degree of stability at the national level, in the next few days or weeks, the whole issue will be resolved.
Are you awaiting declaration that will legitimise your committee?
We are just waiting for the NWC to ask us to commence work fully, but we have started mobilising members. Out of the eleven points to take care of, it was only three that were not resolved before the crisis at the national level. Part of the issues are mobilisation, inter-personal relationship, party secretariat and registration partially.
Why is it that the Dejo Afolabi-led executive still parading itself as the state exco?
Our committee was inaugurated in his presence, even though he was supposed not to be there, he smuggled himself in. He leads an illegal executive and does not exist and Akala knows this too.
Is it not right with your explanation to conclude that PDP is a lawless party?
PDP is not lawless. We have crisis which claimed the number one man, Vincent Ogbulafor, while another party executive died. We have a catalogue of problems, so the most serious issue is dealt with and national problem is more serious than state's problems.
With the party endorsing Akala for second term, what is the relevance of the congresses you want to hold?
PDP has not endorsed anyone and that is why you see posters of aspirants out there. Akala should have come to the party secretariat to test his popularity and not in his sitting room. He asked some boys to organise a meeting in his sitting room and asked if they want him to continue. If you were there and to be faithful to yourself, will you say no? You saw what happened when President Goodluck Jonathan came to Ibadan. It was embarrassment to Oyo State. Out of three senators, one attended; out of 32 members of the House of Assembly, seven attended and out of 14 members of the House of Representatives, six attended and you are saying that everybody has endorsed Akala. That members of National Union of Road Transport Workers (NURTW) endorsed him in the state house does not translate into notable politicians endorsing him. It is not motor park boys' affairs, but those of notable politicians. Let me use your medium to tender unreserved apology to the people of Oyo State. We have insulted and embarrassed them enough. The president went to Delta State about ten days ago and visited Ibori's village. The first thing he did was to drive straight to the palace of the village head but when the same president came to Oyo State, Alaafin travelled 40 kilometres, Soun travelled about 60 kilometres, put together, 100 kilometres made by two first class traditional rulers, to receive him. They were at the airport and the man just waved to them and not even ordinary hand shake. To add more insult, they drove through most streets of Ibadan and didn't deem it fit to make a courtesy call on the Olubadan of Ibadanland. That is the type of government Oyo State has. The President is intelligent. Can you leave Adeojo, Ladoja, Balogun and Oyelese out when talking about PDP in Oyo State?
What about local government chairmen, their councillors and state legislators?
If you want to talk to 17 out of the 32 state legislators tonight, I will provide them for you and you will know that the House has not endorsed him. How many legislators are in his support? Local government chairmen will not want to be probed and removed, but if you want to hear the truth from them, allow them to talk in the dark, it cannot be more than five that will support him.
Are you saying that Akala will lose grip of the party structure he is tenaciously holding on to?
He doesn't have party structure in the first instance.
How soon do we expect sanity to return to PDP in Oyo State?
Once the national body gets itself together and settle down, within weeks, sanity will return to Oyo State PDP. Don't forget that we are conscious of next year's election.
Load more