With the 2010 World Cup set to end tomorrow in South Africa, next host of 2014 World Cup, Brazil say its government will spend the sum of $500m to give the Rio's legendary Maracana Stadium a facelift for the tournament.
Secretary of Sports and Tourism, Marcia Lins told international journalists that Brazil will work hard to give the world a befitting World Cup to complement the brilliant show presented by South Africa.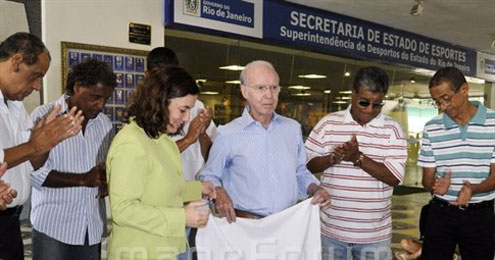 "The start of renovation work at the stadium was planned for March 2010 but it will only close completely in September," he said.
The end of work on the stadium, the largest in the world when it was inaugurated in 1950 for the FIFA World Cup, is planned for December 2012.
The Maracana is classified as an historic monument so the facade will be maintained but the officials say a roof will be added to the five-storey oval stadium. The stadium's capacity will however drop to 83,000 from its current 88,000 while other stadia designated for matches would be put in order.
"Before, stadiums were practically just large pitches but today they are multi-disciplined arenas," said Lins.
She added that the project also included the regeneration of the entire northern area of the city.
The Official Emblem for the 2014 FIFA World Cup in Brazil was unveiled at the Convention Centre in Sandton, where Brazilian President Luiz Inácio Lula da Silva, President of the Brazil 2014 Organising Committee and FIFA Executive Committee member Ricardo Teixeira, FIFA President Joseph S. Blatter as well as former Seleção players Cafu, Carlos Alberto Torres, Romario and 1994 FIFA World Cup winning coach Carlos Alberto Parreira were in attendance. The next major milestone on the road to the 2014 FIFA World Cup will be the preliminary draw to be conducted in Brazil in July 2011.
By Tunde Oyedele, Johannesburg
Load more