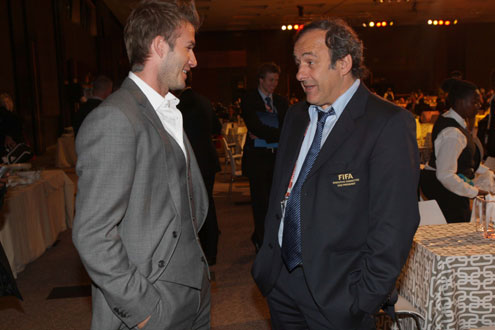 Michel Platini, UEFA President, who fainted in a Johannesburg restaurant yesterday has regained consciousness and rejoined his colleagues from European Football body and 2010 World Cup organisers, SAFA, CAF and FIFA.
Platini, according to reports was at the Pigalle Restaurant in the Michelangelo Towers, dining with fellow Frenchman and former Liverpool manager Gerard Houllier and former Scotland manager Andy Roxburgh when he slumped yesterday.
The Media Unit of South Africa 2010 World Cup LOC said Platini who was suffering from flu was quickly driven to the hospital, where he was released after precautionary tests and treament.
It was gathered that the UEFA boss, who was rumoured to have suffered a heart attack actually fell to the chilly weather that dropped to –8 Degrees Celsius this week in South Africa.
''Platini will attend the World Cup final on Sunday at the Soccer City Stadium. This is to formally douse the tension that gripped his friends and family since he slumped yesterday. From the tests conducted in the hospital, Platini is okay and has joined the rest of us'' William Gaillard, spokesperson of UEFA said.
Platini is expected to join FIFA's Executive Committee in Monday's wrap-up Press Conference and FIFA Congress to draw curtains on the World Cup.
Meanwhile, the stage is now set for today's thrid place match between Germany and Uruguay.
By Tunde Oyedele, Johannesburg
Load more