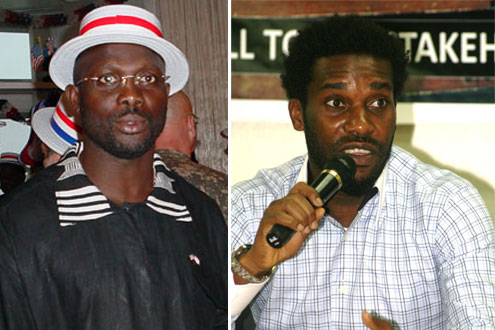 As the 2010 World Cup final bug spreads across the globe, two prominent African legends; Nigeria's Austin 'Jay Jay' Okocha and George 'Opong' Weah of Liberia are divided on who goes home with the trophy between the Netherlands and Spain tonight.
The fight for the trophy may be well for the team that wants it the most, but Okocha, former Super Eagles skipper believes the Netherlands have done enough work and deserve to lift the trophy in South Africa.
''I will give this trophy to Holland because of their ruggedness and good football instincts. Arjen Robben and his teammates have the quality to deliver'', said Okocha on his way to SABC this afternoon.
The former PSG of France and Bolton Wanderers of England captain, while x-raying where the pendulum of victory swings during tonight's hostilities at the over 80,000 capacity Soccer City Stadium in Soweto, Okocha said: ''Wesley Sneidjer has the pace, dangerous passes and fast on the counter, Dirk Kuyt is reliable with his marking acumen and the never say die attitude of Mark van Bommel in the rear will make the final an exciting encounter. I can see the Netherlands going home with the cup''.
Weah, former UEFA and FIFA World Player of the Year, who earlier predicted that German would win the cup, did not want to put his money on either of the finalists today.
''I wish this question could wait until about two minutes to the end of the match, because I once tipped Germany for the cup but they finished third yesterday.
''All the same, I don't agree with Jay Jay because Spain look better based on how they neutralised the German Machines in the semi final. I give the trophy to  Spain'', Weah, who never played in the World Cup said.
Spanish star, Xavi Hernandez, who will have to do much work to hold Sneidjer wants the  atch to favour his country, but agrees tears would be inevitable at the end.
Said Xavi:We all spoke about the trophy and agreed we'll win it. But, the match comes first and I have told Puyol and Toress on the need to raise our technique. For me, I want to wear the gold medal, it'll be nice to end South Africa 2010 on that note''.
Meanwhile, about 85,000 fans are expected at the stadium to witness the final of first ever FIFA World Cup to be staged in Africa. The South African government this afternoon disclosed it has spent R33bn over the past seven years preparing for the World cup, which created about 130,000 jobs. This, the Jacob Zuma-led government claimed has injected about R37bn into the economy.
ByTunde Oyedele, Soweto
Load more