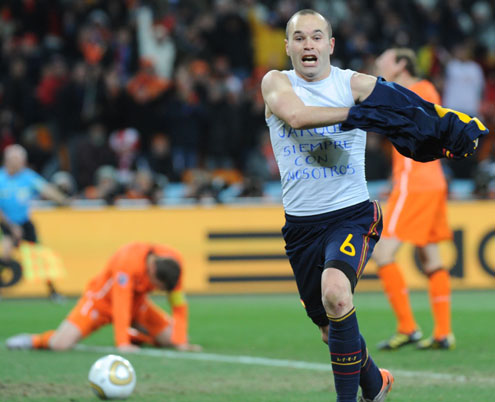 Basking in the euphoria of his country's heroic winning of the 2010 World Cup, Barcelona's Andres Iniesta said the trophy will help stop political restiveness in Spain.
Iniesta, who expressed gratitude to God for giving the trophy to his country after scaling all hurdles right from the group stage to the final, believes the trophy would go a very long way in putting an end to the social unrest the Spaniards are experiencing in different facets of their life.
Iniesta, who was instrumental to Spain's emergence as the new world champions after his country's triumph at the expense of The Netherlands, who they defeated 1-0 in the final at the Soccer City Stadium in Johannesburg last night, told P.M.Sports that their victory over the Dutch team was a sign of better things to come.
According to him, "this is a great moment in our lives. I believe this trophy has come at the right time to unite us. It would be a tool to unify those of us that are aggrieved. I think the problem affecting the country would be over now: is it religious, political or ethnic problem? This is a moment of truth for all Spaniards all over the world. We should see ourselves as one. There is no doubt that we have succeeded in our quest to clinch the trophy and I know by the time we get home, we would have made a statement with this trophy."
"I want all Spaniards, who have one difference or scores to settle with each other to start embracing themselves; this is my gift and I want to dedicate the trophy to all my brothers and sisters back home. They should see themselves as one; they should bury the hatchet and forget about the past. I believe we should be one, just as the trophy has brought us together, we should all be united and be ready to move forward."
Meanwhile, Arsenal FC of England and member of the newly crowned world champions, Cesc Fabregas said Spain deserved to be crowned the champions of the world after their performance at the South Africa 2010 World Cup.
Fabregas, who is the skipper of Arsenal FC insisted that the number of cautions issued by the centre referee Howard Webb, showed how keenly contested and tough yesterday's final was.
According to him, "we are very happy. The match was very tough. We all fought the fight. From the number of yellow cards issued by the referee, you would agree with me that we deserved to win the trophy, after all, 32 countries started the fight for the trophy and now we are heading home with it, Spain are the champions! We are the world champions! We are proud of ourselves because nobody gave us the chance, but against all odds, we are the winners of the South Africa 2010 World Cup."
Load more