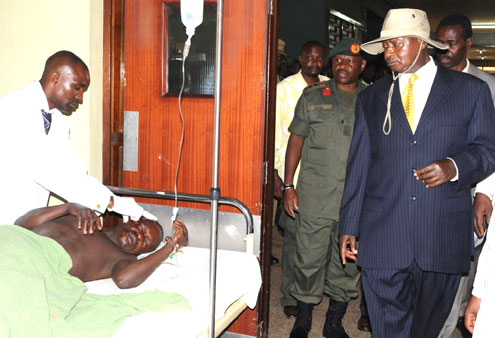 President of world football governing body, Federation of International Football Associations, FIFA, Sepp Blatter has expressed deep regret over the unfortunate incident in Uganda, where 75 people were killed in bomb blast.
The urgly incident happened  when they were watching Sunday's final of the South Africa 2010 World Cup between Spain and The Netherlands.
Blatter, while speaking with journalists yesterday at the Convention Centre in Johannesburg, South Africa, said football is a unifying tool all over the world. He urged people to emulate what the South Africans did at the just concluded World Cup, where they made Africa proud.
According to the Swiss-born football administrator, "some of us are proud with the hosting of the World Cup. The just concluded South Africa 2010 World Cup was one of the best ever organised Mundial in the history of the world football. It was unfortunate that while watching a football match, some people could have the guts to bomb helpless fans.
"It is also pathetic that we are supposed to leave South Africa with our shoulders high, but we are leaving in mournful mood. It is not good for South Africa and the African continent as a whole because after a glamorous tournament we have to leave here with sorrow. I must say this is pathetic."
Blatter disclosed that he met with some Heads of States during the World Cup, where he told them they have to take security serious in their countries because football is a tool that brings people of different backgrounds together. The incident in Uganda calls for serious security concerns.
He said: "Personally, I sympathise with those who lost their people in the incident. I want to urge all the world leaders to take security very seriously because life is precious. We mourn with the people and government of Uganda. We deeply regret what happened. I'm urging those in the security department to know that security of lives is very important in FIFA."
Load more