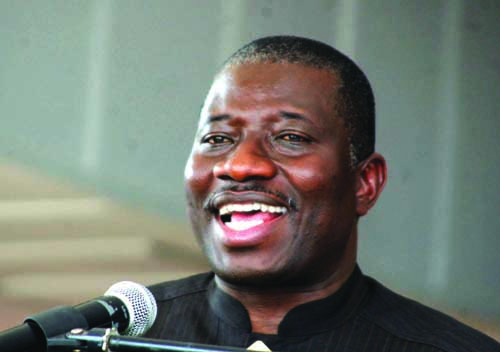 A coalition of minorities in North Central, North East and South – South under the auspices of Congress for Equality and Change converged today on Abuja to drum up support for President Goodluck Jonathan's vaguely disguised ambition to run for the 2011 Presidential Election.
Delegates of the congress from the six geographical zones restated their commitment to upholding the sanctity constitution of the Nigerian Constitution and slammed former leaders of Northern extraction who are agitating for the return of the Presidency to the north.
The group spurned the call for the retention of the zoning principle enunciated by the ruling Peoples' Democratic Party in 1999 and noted that the North had spent more years out of the nation's 50 years of existence.
According to the Chairman of the Congress, Senator Ameh Ebute, "We do not buy the argument that if President Goodluck decides to contest the 2011 elections, that the electoral process will be compromised or doomed. Such views are simply self serving. As a body which is committed to the pursuit of equality for all, we wish to state that we would fully support President Goodluck Jonathan to contest the 2011 presidential election if he chooses to do so."
The group argued that the President has no constitutional inhibition and as such cannot be barred by any other consideration, including the vexing issue of zoning, from contesting. They premised their support on the special circumstances of the South-South geograpolitical zone, where the President comes from, which ecology has gravely devastated as a result of oil and gas exploration for over 50 years; a zone which has never produced a President for Nigeria but contributes over 80% to total federally collectible revenue.
Nigerian leaders, they claim, have been feeding fat on revenue accruing from oil and gas resources of this deprived minority zone.
Senator Ameh Ebute, speaking on the group's behalf, stated that they believe strongly that the circumstances which led to the special consideration of zoning the Presidency to the South-West zone in 1999 should equally apply to the South–South zone today.
Reacting to the threats of political holocaust by some Northern elements, the group stated that they are not perturbed by such threats and that they are ready to perform their patriotic duties of preserving the unity and oneness of the country.
Other members of the group who were present at today's meeting were Senator Jonathan Zwingina, former Deputy Speaker of the House of Representatives and member of Presidential Action Committee; Hon. Chibudom Nwuche.
Nnamdi Felix / Abuja
Load more