We have said so much about the relationship of women with in-laws. No doubt, a good number of in-laws are difficult to relate with. But like I always say, we are all in-laws in one way or the other. Whatever you sow, you reap.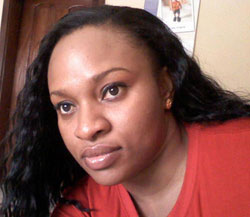 But what about the issue of siblings in our homes? Just like the in-laws, siblings have torn many homes apart. Women most of the time get too attached to the siblings that it begins to affect their relationship with the man. Yes, I know you have to be close to your family (parents and siblings), but if you don't put certain things in check, you are bound to go beyond the healthy zone and then such relationship becomes harmful to that with your man.
When two people are joined together in holy matrimony, the priest always read the Bible passage that says, "Therefore shall a man leave his father and mother and cleave unto his wife and the two shall become one". Is the Holy Scripture just referring to the man alone? Definitely no. The woman has to also leave the parents and siblings and become one with the man.
So many women pray for a disconnection of the man from his family when they are also very much attached to their own family. You know there are times we pray without understanding. You spend your time complaining about the man and his family members not allowing you to enjoy your home. Madam, are your own family members allowing you enjoy your home?
We have this understanding in the African society that anyone from the woman's immediate family wishes her well in marriage. I can tell you today that your very own blood sister and mother could be your worst enemy. Wondering why I said this? Read on.
A girl I know very well got married and was childless for 8 years. The prayer contractors that surrounded her were quick to tell her what she wanted to hear: the mother-in-law was a witch. It was not until a genuine pastor revealed to her that her mother was behind her misery that her freedom came. The man told her that the mother must die if she would have a baby. They did a lot of things, and later the mother died. She conceived and today she is a mother of four.
I once attended a wedding where a woman gave her innocent daughter out in marriage to her lover. This she did just to hold on to the man's wealth and also for easy access to her lover. Girl, you may not believe this, but I can tell you that a lot of mothers are having secret affairs with their sons-in-law. This is why I tell people never to trust anyone.
Now to the issue at hand —your siblings. I believe so many people have gone through so much in the hands of their siblings. Some have been able to identify the source of their problems and make amends while others are still living in ignorance.
I once lived with a family friend while waiting for my JAMB result. Being very ignorant about the issues of life, this woman had so much going wrong in her home. Her husband will always come home during the day and take the sister to bed. Several times, I saw them cuddling. I really felt for her but there was nothing I could do.
Sometime in 2008, just a few houses away from my office, a woman travelled for summer with her kids. She sent the house help to stay with a friend while she was away but left her sister at home with the husband believing she would protect her interest. As this lady got back to Nigeria, she was locked out of the house with so many false accusations. The sister was already pregnant for the husband who bought her a brand new jeep even before the lady returned. This was how she lost her home.
Enough of the story of infidelity. Your siblings have contributed to your husband's negative attitudes towards you. A man once sent me a text telling me that his problem in the home has nothing to do with the wife, but the sister. This young girl who is still in secondary school goes out and doesn't come home early. According to this man, the wife is not doing anything about it. He on his part; doesn't want to hurt the wife by sending the only sister out of the house because any time he threatens to do that, the wife becomes moody.
I have seen siblings who will insult the man and his relations without the wife scolding her. I have watched some men enter the kitchen to serve their guests while madam's sibling sits in front of the television. This is absolutely wrong.
Another reader called me to ask if it is wrong for the woman to gather her own people to come and beat up the husband. Trust me, I didn't answer that question until I asked to know what led to that. He beat the woman who in turn called her people to come and fight for her. They beat the man and left him with injuries. I told him that no responsible man beats his wife, which is the height of irresponsibility. He said he did that out of anger, I also told him they beat him out of anger. But seriously girls, don't call your siblings to beat up your husband.
It also doesn't speak well of you when you allow your siblings use your husband's car. You stop the man's people from visiting your home. Your own people don't just stop at the visiting, they have the right to enter your matrimonial room at any time (even when you are relaxing with your man). They pick up your husband's car key and drive to wherever they like. This has to stop. Give the man all the respect he deserves.
So many women have the habit of discussing their husband with siblings. What do you want them to take the man for? Your marriage is with the man and no third party should come in. If you cannot keep calm and keep the man's reputation, I would advise you get closer to your in-laws. The man feels more respected when you report him to his own family. Most times you talk and say so many derogatory things about your man without knowing your very own sister is interested in him. She will act the good sister you want her to be and then go back to the man to destroy you —HOUSEHOLD ENEMY.
A friend once told me how he lost about ten designer shirts  that were in his wardrobe. According to him, no relation came visiting. It was only when he later went on a visit to his in-laws that he saw his shirts hanging in the wardrobe. The wife suddenly became a thief in her own house. I don't believe I should hide when I want to give things to my siblings. If my husband is a part of me, then he should be aware and also be supportive about it.
Your own family has the right to go to your pot, enter your husband's room, drive his car, and in some cases, wear his clothes. But the moment your mother-in-law and his siblings go to your kitchen, there is fire on the mountain. Your own sister has the right to stay in the living room and watch her favourite series while you cook in the kitchen, but you start barking like a mad dog the moment your sister-in-law does that.
Why live a life of hatred and discrimination? Why should your husband train your own siblings in school only for you to stage a fight the moment he sends money to his sick mother? For how long will you continue to buy Italian shoes and handbags for your own sister only to remember you have to manage as a good wife whenever it's time for your brother-in-law to go back to school?
I once heard a woman telling her female child never to go into the brother-in-law's room. She told the house help that the daughter is allowed to go to her own brother but definitely not the in-law. Are they not both guys? You are afraid of your daughter being sexually abused. Remember, your own brother could be the devil around you.
Sisters have planned the death of their married sisters out of jealousy. You may not accept this truth, but your own sister may not be happy that you are the only one providing for them. You think she is happy when you tell her your experience during your last trip abroad. So many young girls have refused to get married because they want a man who will be able to help them stage a competition against their elder sister in terms of clothes, good cars, and holidays. To these ones, they deserve better things than their elder sister.
This article is not meant to stir up animosity between your family members and you. I write this for you to be able to make amends, become more alert and treat everybody equally. Once you get married to a man, the two families become one. You should be able to love your in-laws as much as you love your own people. This is the easiest way to get your husband to love and accept your own family.
Load more