Officials of the National Drug Law Enforcement Agency (NDLEA) have arrested a Lagos-based telecommunications manager with 70 wraps of cocaine concealed in her stomach.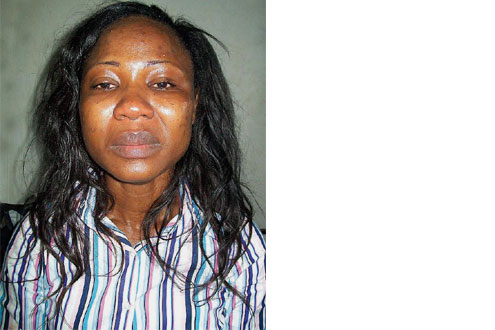 The suspect, Ms. Igbokwe Ifunanya, was apprehended yesterday at the Murtala Muhammed Interanational Airport (MMIA), Lagos State, Southwest Nigeria, as she was about boarding a British Airways flight to London, United Kingdom.
The 29-year old computer engineering graduate from Enugu State University of Science and Technology is a manager of a telecommunications company (name withheld) with headquarters in Lagos Island.
NDLEA Chairman, Ahmadu Giade, after learning of Ifunanya's arrest, warned that if the telecom firm is found culpable, it will be severely sanctioned in accordance with the law.
"Nobody or organisation is above the law. If investigation indicts anyone or group of persons, or even a company, the law will take its course," Giade said.
NDLEA in a statement this morning by its Head of Public Affairs, Mr. Mitchell Ofoyeju, said that Ifunanya confessed to have swallowed cocaine in a desperate bid to save her sick mother from death. Findings by the NDLEA revealed that the suspect travelled to London on vacation in March 2010. The agency said that Ifunanya is believed to be working for a drug syndicate and using her job as a cover. She was also given 2,000 pounds with a promise of additional money upon successful delivery of the drug.
"My mother is sick and in critical condition. Her sight is failing and has been diagnosed with partial stroke. I have been solely responsible for her medical bills. When I could no longer settle the bills and the condition is getting worse, I began running around for help when I came across the people that introduced me into drugs. This is my first time. If only I knew, I would have discussed with my best friend but I was warned not to tell anyone," Ifunanya, who hails from Enugu State stated in tears.
Meanwhile, NDLEA has arrested four other suspects with various quantities of drugs. NDLEA Airport Commander, Alhaji Hamza Umar, gave the names of other drug suspects arrested as Okolli Anthony, 45, Edehen Efosa, 32, Olebunne Ndubisi, 35 and Ndubisi Tochukwu, 30.
Hamza said apart from Ndubisi Tochukwu who wanted to export 1.500kg of cannabis to China, others ingested various quantities of substances suspected to be cocaine. Hamza warned that those caught shall be made to face the wrath of the law. He also dismissed Ifunanya's claims as one of the numerous reasons drug suspects give for engaging in the nefarious act.
"We are investigating the case because we are interested in other members of the syndicate," Hamza stated.
"It is wrong to commit crime notwithstanding the circumstance. Drug trafficking is criminal and unacceptable. It is sad that even those that are gainfully employed are still involved in drug trafficking," Chairman/Chief Executive of NDLEA, Ahmadu Giade said. Okolli Anthony, 45, who works in Vienna, said that he ingested 91 wraps of cocaine in his home town Agbor in Delta State.  He would have been paid 4,000 Euros. Edehen Efosa from Edo State who works in Madrid ingested 99 wraps of narcotics for 5,000 Euros. Olebunne Ndubisi Ezekiel from Imo State also swallowed 54 wraps of drugs to earn 4,000 Euros.
All suspects are still excreting the drugs and will soon be arraigned in court, Ofoyeju said.
—Simon Ateba
Load more