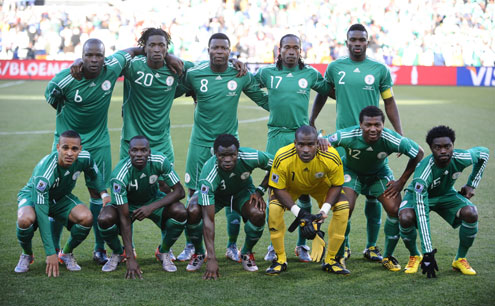 Super Eagles of Nigeria's midfielder, John Chukwudi Utaka yesterday spoke on the country's participation in the just concluded 2010 FIFA World Cup in South Africa, saying that the Eagles did not live up to the expectations of soccer-loving Nigerians.
The Portsmouth of England star, who visited the corporate headquarters of P.M.NEWS/TheNEWS in Ikeja, Lagos, Nigeria, yesterday revealed that the star-studded Eagles could have performed well in the Mundial if there had been unity in the team.
"There is no doubt that we had a good team in the 2010 World Cup. But the problem started with the assemblying of players. Each player of the 23-man team was good individually, but as a team we did not play as a team," said the former Rennes of France star, who was at the P.M.NEWS to seek support for his pet project: John Utaka Foundation, an initiative to empower the less privileged and youths of Nigeria.
"Another thing that contributed largely to the woes of the Eagles in the World Cup was that each player wanted glory on the field of play for himself. When this happens in a team, it would be very hard to move forward.
"Unity is the strength of any team. Football is a collective game. Cristiano Ronaldo cannot make the whole Portuguese team. Charles Puyol, despite being a star who everybody was looking forward to in the Spaniard team in the final of the World Cup, did not score against Holland. It was Andre Iniesta that scored the winning goal.
Our Ghanaian neighbours, the Black Stars, did not parade the stars we have in Nigeria, but they were able to make a strong impact in the World Cup because of the unity in the team.
"The Pharaohs of Egypt were able to win the Africa Cup of Nations for a record sixth time because the players and their coach stayed together for a very long time. I think it is high time we copied how these successful teams of the world attained the height they are today. We need to have a coach who will understand his players, while the players themselves should show commitment to their fatherland and play as a team," said Utaka, who disclosed that he has an offer to move from Portsmouth to Sunderland in the English Premier League.
—Taiwo   Adelu, Wale  Joseph & Adebobola  Alawode
Load more