A  21-year old youth, Funsho  Akinmola has been arrested by the police at Alade Police Station for having carnal knowledge of two kids who are children of same parents.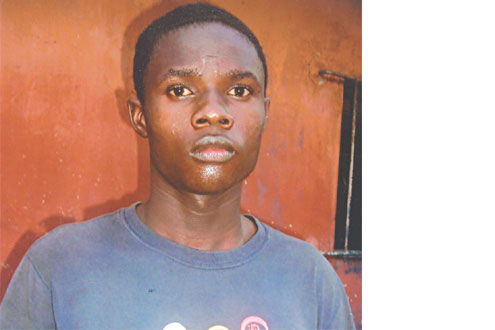 A police source said it was Mrs. Abimbola Oni, the mother of the children who are aged nine and five, who reported the incident to the police at Alade police station. The suspect is a resident of  27, Majolate Street, Onipanu.
Mrs. Oni who has a shop at Majolate Street said that Funsho had been luring her kids to his residence and defiling them.
The mother discovered this when she noticed one day that the older  child whom she sent on errand did not arrive on time. And when she did, she noticed that she was weak.
This prompted the mother to check her private part and she discovered that the little child was bleeding. Semen was also discovered in her private part. The young girl told her mother that her condition was caused by Funsho who did not deny that he had been sleeping with the girls.
The matter was consequently reported to the police who conducted their investigation and charged Funsho to a Shomolu Magistrate's court. The matter is still in court but Funsho is currently being remanded in Ikoyi Prison.
A cousin of Funsho who pleaded anonymity admitted that her kinsman actually  perpetrated the act. She even added that when she visited him in prison he confessed that he had carnal knowledge of both children. "I brought him to Lagos from Ekiti. When I traveled home I got reports of how he had been living a wayward life. He used to steal from his mother's wardrobe.
"I brought him to Lagos thinking that a change of environment would make him amend his ways. When I visited him in Ikoyi prison he did not deny it," she said.
—Paul Dada & Dedeigbo  Ayodeji
Load more