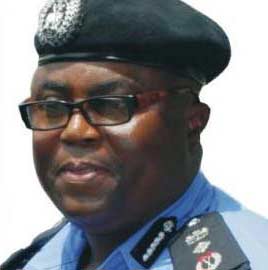 The Police in Kano this afternoon paraded nine suspected kidnappers who have been allegedly terrorising residents of the state.
Odinaka Ejiaku, 23, Ifanyi Ugo, 38, and Amarachi Ugo, 20, were said to be part of the kidnap syndicate involved in about eight kidnappings in the state recently.
According to the Police, the suspects arrested on 2 July at different locations within Kano metropolis were linked with a principal suspect, Nwaneriaku JohnPaul Nonso who is now at large.
"They were believed to be part of eight kidnapping cases reported to the police in recent times. The cases include the kidnap of Samco, Awaco, Okafor, Oliver, Chizoba, Little Ujunwa Edna and Mrs. Keziah Umeh," Kano state Police Commissioner, Mohammed Gana told newsmen.
The suspects were arrested by plain-clothe police detectives from No Man's Land Police Division.
The investigative team used both Face Book and GSM facilities to effect the arrest of the suspects.
"One of the kidnap victims gave us the number which they used to call him. I sent a N1000 air time into the number with an accompanied text message asking the receiver to 'please use the N1000 air time for calls. Fortunately, the number belongs to Nonso who sent same credit to Ifeanyi believed to be her mother.
"We now used the GSM transaction to track down Ifeanyi's number and arrested her. When she was arrested, Amarachi believed to be her younger sister brought food for her at No Man's Land Police Division. When she came, I placed her under arrest and seized her phone. While dialing the numbers on her phone, I saw a number registered as Nonso Kano.
"When she was asked who Nonso was, she started shivering. From our investigation, we realised that Chinedu Michael Ugu, a friend to Nonso is a bboyfriend to Amara who already has a little baby for him," Mohammed Guri, Divisional Police Officer of No Man's Land told P.M. NEWS.
However, Amarachi told newsmen that she is a nursing mother, "for three weeks, I have been in detention; I can no longer breast-feed my child. The father of my child is in Owerri. I am not part of this. I was arrested when I brought food for my sister who was at No Man's Land Police station," she claimed.
Her elder sister, Ifeanyi also claimed that she returned from Libya not long ago, "I am innocent. I have a son who I have been training in school. He was the one that sent me credit which I used to make international calls. The day the police came to look for me, I was not around. When they told me police came, I said why; may be—is it because of the international call I made? I am surprised that they brought me here for something I knew nothing about."
Amarachi and Ifeanyi, her elder sister, reside at Gunduwawa, on the outskirts of Kano city where police said they use as a hide-out for their victims, while Odinaka resides at Sarki Yaki, Sabon Gari. Odinaka is believed to be an informant to the kidnap syndicate. The 23-year old Odinaka told newsmen that his involvement in kidnapping was as a result of, "the work of the devil."
Ibrahim Mohammed Zanna, Assistant Commissioner of Police in charge of State Criminal Investigation Department, SCID, told P.M.NEWS that in the course of investigation, "when the kidnapped nine-year old Ujunwa Edna was brought to the headquarters, she identified Ifeanyi and Oddinaka Ejiaku calling them 'sister and brother"
Ujunwa Edna, kidnapped two months ago was dropped at Mr. Biggs on New Road, Sabon Gari, after her abductors had collected over N1.5 million ransom from her parents.
Also, P.M.NEWS recalls the case of the late Mrs. Keziah Umeh, a diabetic and hypertensive grand-mother, who died in the hands of the kidnappers and was dumped in a hospital within Kano city, after her children had remitted over N1.5 million ransom to the kidnappers.
Meanwhile, Antthony Ifeanyi Ugwuanyi, 22, of number 77 Niger Road Kano; David Anajenta, 21, from Ojo in Lagos State; Alexander Akaniyene,27, of Uyo, Akwa Ibom State and Chinonso Henrry Ozowore of Aba, Abia State were also paraded by the Police for criminal conspiracy and and attempt to kidnap contrary to section 271 of the Penal Code.
They were arrested by detectives of the SCID on 8 July following a tip off.
"The suspects were arrested for planning to kidnap the son of Chief Godfrey Obielo who resides in Niger Road, Sabon Gari Kano to demand a ransom of N4 million.
"Preliminary investigation revealed that the suspects were to kidnap 11 year old Chigozie Godfrey on Sunday, 11 July 2010 from a church at Sabon Gari and had already secured a hideout at Zango Quarters where they will keep the child.
"He was to be transported by a taxi from church to the hide-out. Nelson was to provide the gun while Balogun provided the hide-out. Effort is on to arrest the duo," a record from the SCID stated.
Also, the police mentioned the case of Tochukwu Uche, 22, of Sani Giwa Street, Sabon Gari and Magaji Mua'azu, 23, an illegal immigrant from Niger Republic who resides at Koofar Kura quarters who had threatened to kidnap the son of Chief Alex Onwusaraka of No. 11 Burma Road.
"On 3 June 2010, the suspects allegedly threatened to kidnap the daughter of Chief Alex Onwusaraka of No. 11 Burma Road through GSM No. 08054911181, 07033411438 and 08031139718 and instructed him to deposit money in their account no. 0116110000186081 domiciled with Intercontinental Bank Limited, Kano branch.
"A false alert was sent to the account and the suspects appeared in the Bank to cash the money which never existed and they were arrested," SCID record stated, adding that the suspects were transferred from the Kano State department of State Security Services, SSS, whose men effected the arrest.
Exhibits recovered from the suspected kidnappers include 14 GSM sim cards, four handsets, wrist watches, bank pass books and an Oceanic Bank ATM.
CP Gana warned that, "It is discovered that Zango area and Gunduwawa are mostly used by these hoodlums. Efforts are in top gear to invade the area by the police and get all criminals flushed out. All criminals all over the country should be wary of Kano. Kano is not a fertile land for them to farm. For me, there is no compromise. Our mission statement is zero tolerance to crime and there is no going back."
MADUABUCHI NMERIBEH/Kano
Load more