Forty-three companies have been formed while 4,800 people have been employed directly and indirectly following the introduction of the tree planting scheme two years ago by the Lagos State Governor, Babatunde Fashola.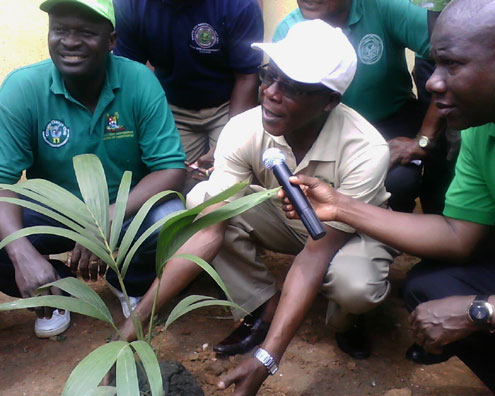 Governor Fashola revealed this through his representative at the celebration of this year's Tree Planting Day, Hon. Shina Ogunkoya, Chairman, Ad hoc Committee on Environment, Lagos State House of Assembly, at Ifako-Ijaiye Local Government Area of the State.
The governor stated that apart from beautification of the environment, trees would help human beings live longer as they depend on the oxygen from plants.
He also explained that the programme was important to reduce the effect of climate change on the State and its residents.
Also speaking at the event, the State Commissioner for the Environment, Dr. Muiz Banire, who was represented by the Head of Research at the ministry, Mr. Sherrif Savage, advised the people of the local government to respect nature, adding that they should plant trees and nurture such trees jealously.
He added that since the inception of the programme, over one million trees have been planted.
In his remarks, Chairman of Ifako-Ijaiye Local Government Area, Demola Doherty, promised to give prizes to the first three streets that planted and nurtured trees between now and next year.
He also charged teachers and heads of schools to encourage their pupils and students to plant trees in their various areas while stressing that the State was already benefitting from previous tree planting exercises.
—Eromosele Ebhomele
Load more