Some ex-militants have condemned the kidnapping of four journalists in Abia on Sunday.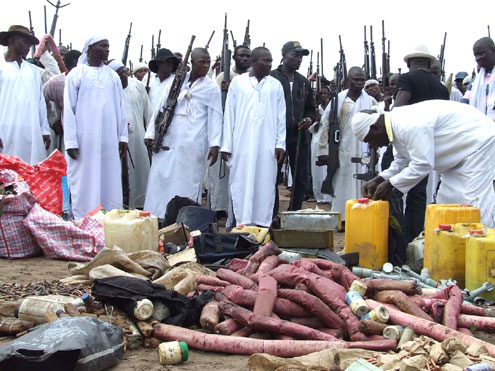 Opunamah Adabafe and Awei Akoke told newsmen in Benin on Wednesday that journalists were partners in the liberation struggle in the Niger Delta and Nigeria at large.
Adabafe, one of the "generals'' in a camp in Delta before the amnesty programme, said "without journalists we cannot go anywhere.''
He said the kidnapping was not good because journalists do not have money and are harmless professionals.
Akoke, who was also a "general" in one of the camps in Delta, re-echoed his colleagues stand and condemned the kidnapping.
Another "general,'' who is holding a government appointment, and did not want to be named, said journalists were his best friends while he was in the creeks.
He said that when he kidnapped foreigners, one of the journalists that visited his camp was a Russian.
"I conducted the journalists round my community to show them the level of neglect,'' he said, adding that the kidnapped foreigners were released without any ransom.
He said the motive for their actions were to let the whole world know the level of neglect of the Niger Delta.
He expressed regrets that even poor market women were being kidnapped, adding that if the Federal Government engaged the services of ex-militant generals, they will contribute their quota to check the trend.
The ex-militants commended Gov. Adams Oshiomhole of Edo for giving political appointment to one of their colleagues.
They urged other governors in the Niger Delta to emulate Oshiomhole and give positions of responsibility to the "generals'' in their respective areas.
"Imagine, we receive the same N65,000 monthly with our boys. Government should redress that,'' he said.
They also condemned the action of the ex-militants that went to Abuja to protest, saying that they were sponsored by politicians.
Load more