The sponsor of Oshodi Branch football team, Alhaji Musiliu Akinsanya a.k.a Olu-Omo of Oshodi, has promised his team the sum of N200,000 if they can win the final of Under-15 Akanni Olohunwa Cup.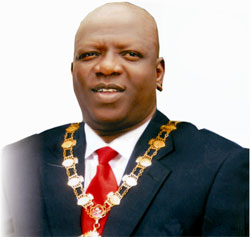 If the team win the final match against Surulere Branch on 30 July, 2010 at the Campos Mini Stadium, Lagos Island, they also stand to win the winners' prize of N1.5m.
Olu-omo told the players and the coaching crew that he will personally give the money and two dozen track suits if they win the cup.
"I know that the players are looking forward to what I will do if the team win the final. I have promised them the sum of N200,000 and some track suits. I will also organise a get together for the team if they can win the cup," he said.
Akinsanya, who donated a Toyota Coaster bus for the team recently, said Oshodi NURTW Branch is solidly behind the team, adding that they will come in large numbers to cheer them to victory in the final.
He urged the players to give their best to justify the money he had spent on them since the competition started two months ago
Coach of the team, Lookman Bakare, boasted that his team have what it takes to win the coveted trophy, saying that anything short of that will be a disappointment to their fans.
Meanwhile, organisers have informed the two finalists of a crucial meeting tomorrow at the Campos Mini Stadium. Afolabi Onanike said the agenda of the meeting is to tell the finalists what to expect in the final ceremony.
"We are going to tell them the rules and regulations of the game. We want to do this to avoid bad officiating that may tarnish the image of the competition because the final will be keenly contested and glamorous," he said.
Load more