Justice A.L. Allaogoe of the Federal High Court sitting in Jos ruled today that the tenure of Governor Olusegun Oni of Ekiti State will end on 29 May, 2011 and not 5 May, 2013.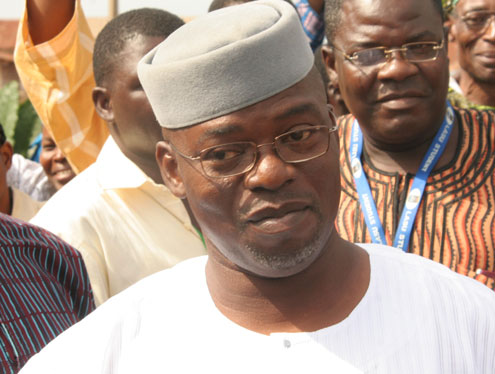 Oni first took oath of office in May 2007, after his hotly disputed election victory months earlier challenged by the Action Congress candidate, Dr. Kayode Fayemi. Oni's victory was later cancelled by the Appeal Court sitting in Ilorin. The court, in its ruling on 17 February, 2009, ordered a rerun of the polls in 10 local councils, while affirming the results in six councils. The election, replete with violence and bloodshed, held May 2009, with Oni being declared the victor again by the Independent National Electoral Commission.
Again, the AC candidate has engaged him in a court battle, to upturn the verdict. The matter is now before the Appeal Court, after a lower tribunal upheld Oni's victory.
Today, Justice Allaogoe said the rerun election ordered in Ekiti state last year was not a fresh pool, but a "supplementary pool." He said the Appeal Court did not make any mistake about the supplementary nature of the re-run as the entire election was not annulled. He, therefore, ruled that the "supplementary poll in the 10 local councils" was only complementary to the election earlier decided in the other six local councils.
Governor Oni, as the first respondent in this suit filed by Sunday Adumo, a member of the Ekiti State House of Assembly, and three other members of the Action Congress, contended that his position was similar to the fresh tenure given to Governor Murtala Nyako of Adamawa State and Liyel Imoke of Cross River State.
But Justice Allaogoe rejected the argument and ruled that the circumstances were dissimilar.
He ruled  that the oath of office taken by Oni in May 2007 remains valid and not the one taken last year May.
Justice Allaogoe also said he did not agree with the defendants that the plaintiffs did not have the right to sue on the matter.
Chief Anthony Ademuyiwa Adeniyi represented the four plaintiffs, while Mr. Ezekiel Agunbiade and B.I. Wuyep represented the People's Democratic Party and the INEC, respectively. Governor Oni was not represented by any counsel in court.
Load more