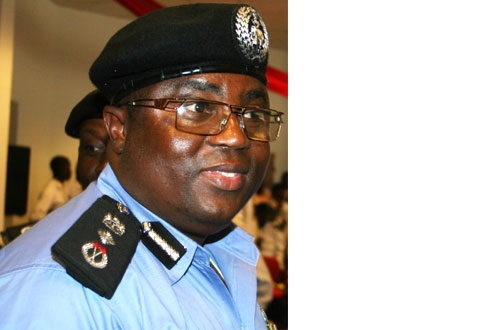 Worried by unending reports about the misconduct of his men, the Inspector General of Police, Mr. Ogbonna Onovo, has vowed to flush out bad eggs in the force.
He stated this yesterday while addressing officers and men of the Enugu State Police Command in his tour of the zone following last Sunday's abduction of  four journalists in Abia State.
"Your job is on the line if you don't sit up," he warned his men in the state.
According to him, over two million job seekers applied for the police job in the recent recruitment exercise of junior officers across the country.
Mr. Onovo lamented that the public is almost losing confidence in the force due to illegal activities of bad eggs who spoil the image of the force, stressing that conditions of service have greatly improved with better pay coupled with the Federal Government's resolve to include the force and the military in the just approved federal minimum wage of N18, 000.
"There is no more excuse. Work with what you have," he added.
Against this backdrop, he charged his men to dwell more on intelligence gathering effort to be more pro-active instead of reactive, saying that he will withhold promotion of officers with questions to answer in the Southeast.
He decried various atrocities allegedly committed by members of the force mounting road blocks and threatened to remove  them.
"I will soon remove road blocks if it is going to be damaging our image. We have to remove those road blocks and use vehicles to patrol," he said.
Onovo reavealed that the force is making efforts to buy tracking equipment to combat crime, especially kidnapping.
Also, the IGP supported registration of SIM CARDS by telecom operators.
Earlier in his address, the new Commissioner of  Police in the state, Mr. Dan Azumi Job Doma told the Inspector General that the command has cordoned the state borders in respect of  the trail of  the kidnappers of four journalists  in Abia  State last Sunday, saying that the Coal City state is now devoid of kidnappers.
The commissioner also requested an ambulance for the command and the approval of Oji River as an Area Command to bring it to three in the state with the aim of effectively policing the state.
According to Doma, the ratio of policemen to the people of the state is 1: 800, a far cry from the United Nations requirement.
—Jude Orji/Enugu
Load more