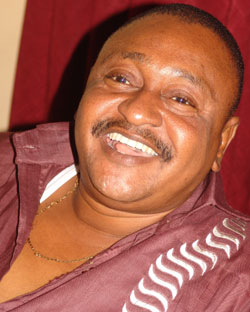 Former President of ANTP, Jide Kosoko, has said that his 17-year old marriage to Henrrieta is intact.
Speaking with P.M. Entertainment, Kosoko said "the separation tale is unfounded.  I am a public figure and if I intend to divorce my wife, which will never happen, I will make it public because I have nothing to hide."
The ace actor added that he is not bothered that people, especially jobless ones, are peddling rumour about his home, saying "I am not moved and despite the fact that I am a polygamist, I love my wives equally."
In the same vein, Henrrieta told P.M. Entertainment that she is still married to her husband.
According to her, "my absence at the final burial ceremony of Hakeem Kosoko's father does not mean there is crisis in our family. We are one happy family and we will remain so till death do us part."
She added that she and her husband had been attending events together before and by not attending an event together does not mean that they are no more together.
Load more