Four soldiers and two naval officers have beaten three officers of the Lagos State Traffic Management Authority, LASTMA into unconsciousness at Mile 2 area of Lagos State, Nigeria.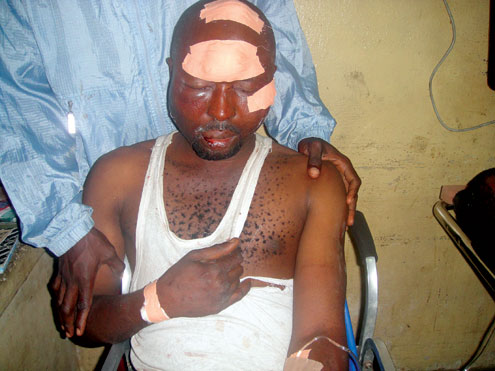 The LASTMA officers-Gbenga Ajayi-Bembe, Akeem Bisiriyu and Abiodun Kayode were battered by the military men while trying to tow a broken down trailer obstructing traffic at Mile 2.
They were immediately rushed to the Gbagada General Hospital for treatment where they were revived after remaining in a state of unconsciousness for sometime.

P.M. NEWS gathered that trouble started when the Head, Zone 5, LASTMA had asked Kayode, the LASTMA towing vehicle driver to go and tow a trailer, which broke down at Mile 2 'Oke.'
The owner of the trailer was said to have called in the soldiers and naval officers who came and gave Kayode the beating of his life.
The soldiers successfully removed the trailer that had already been carried by the towing van and drove off while Kayode contacted his boss to come to his rescue, and then chased after the fleeing trailer being driven by the soldiers.
Getting to First Gate, Mile 2, Kayode used his towing vehicle to block the trailer while the soldiers came down and descended on him and beat him mercilessly until he collapsed into a state of unconsciousness, while two other officers came to rescue him.
The other two officers-Ajayi-Bembe and Bisiriyu who came to rescue their colleagues were also thoroughly beaten until they also became unconscious while the soldiers and the naval officers took the trailer away.
Speaking with P.M. NEWS, Kayode narrated the story, saying that "my boss told me to go and tow a trailer which broke down at Mile 2 Oke.  I had already jacked the trailer into the towing van when the owner went to call two soldiers and they beat me up and removed the trailer from the van.
"I called my boss to come to my rescue and I pursued the trailer to first gate and blocked it.  More soldiers and naval officers came and they beat me until I fainted.
"They beat my two other colleagues into unconsciousness and they smashed the windscreen of the towing van.   I was soaked in blood before I passed out.   The area boys in the area also started throwing stones at us."
The three LASTMA officers also sustained severe injuries.
As at the time of filing this report, Bisiriyu was still seriously in bad condition in the hospital as he could not talk.

—Kazeem Ugbodaga
Load more