Toun Oni's younger brother, Bayo, spoke about the life and times of the late actress and how she will be buried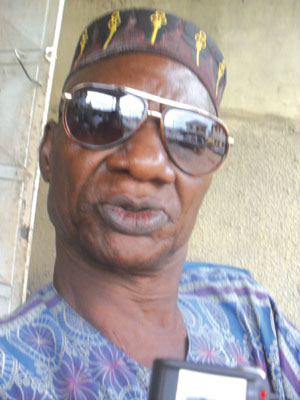 What was Toun Oni's position in the family?
She was the fourth in the family of five while I am the last child.
How did you hear about her death?
The information came to me through our family member that stayed with her.
Was she ill?
No, I learnt that on the day she died, she spoke and played with some people.
How do you feel losing her at 68?
It is not the age that matters but she died serving the Lord as a devoted Christian and we are happy about that.
What was the relationship between you and her?
Very cordial.
When last did you see her?
I saw her few a days before she died.
Did she tell you anything that suggested that she was about to die?
No, but she told me that she did not want to suffer before she dies and also prayed that she did not want an ailment that will keep her on the bed for long.
Did she tell you all this when she was ill?
No, sickness can come at any time and that does not translate to the fact that she wanted to die. Anybody can be sick at any time.
Did she have any unfulfilled dream?
Not really, but she planned to die in the house of God.
Did she die in the church?
No, she died serving Jehovah God.
Was she planning to shoot a film or soap?
No.
After her death, what has been the contribution of ANTP, AGN and others?
I thank God that my sister had good relationship with all the associations, so what else are we looking for? They are still waiting for us to make a decision. The National Troupe was here.
Why was the burial plan scheduled for 15 July?
There is nothing like burial plan yet because we were not expecting her death and losing someone like her in the family is not an easy thing, more so, she was not a young person that we can just bury like that. We still need to meet.
When are you burying her?
We are yet to decide on that.
Did she tell you where she would like to be buried?
No, because she did not tell us that she wanted to die.
So, where are you proposing?
We have not decided yet.
As an actress, did she ever tell you even jokingly that she was going to die?
We don't have such belief in our family.
What will you miss her for?
I will miss her for everything. I will miss her for taking away the burden of boredom from me and members of our family, because whenever anyone us of was worried, she would say ki l'o n se e? meaning what is wrong with you? Cheer up. She never kept malice with anybody. If you offended her, she would tell you and either you say sorry or not, she won't complain.
Was that what kept her on until she died at the age of 68 years?
Sixty eight years?
How old was she?
I am 74 and she is my elder sister, her real age is 76.
What then was the secret of her healthy looks?
It is God.
How will you compare her role in some of her films to her real character?
We know what she can do, she was a different Toun Oni off stage.
As popular as she was, did she make good money from the movie industry?
That is left for her to decide, but I am sure she was contented before she died and we thank God for that.
When will the family release the burial plan?
We are meeting tomorrow to decide on that.
Load more