Officials of the National Drug Law Enforcement Agency (NDLEA) have arrested a 34-year-old man who claimed to be a medical doctor with several wraps of cocaine concealed in his stomach.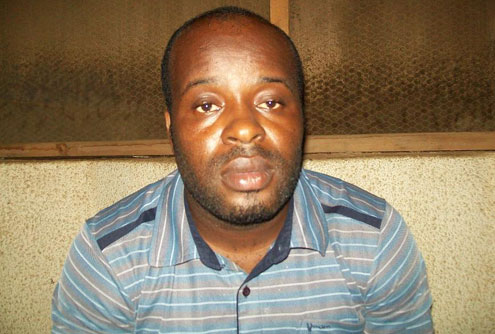 NDLEA checks later revealed that the suspect, Ndenojuo Obinna Franklin, was never a medical doctor as he dropped out of school in primary three..
The agency's Head of Public Affairs, Mr. Mitchell Ofoyeju, said in a statement this morning that Obinna was nabbed at the weekend at the Murtala Muhammed International Airport (MMIA) in Lagos, Southwest Nigeria, with 1.020kilogrammes of cocaine in his stomach while trying to board a Virgin Atlantic flight to London, United Kingdom.
All travel arrangements had been perfected for Obinna to travel to London on invitation as a doctor but he could not outwit anti-drug scanning machines installed at the international wing of the Lagos airport.  The 34-year-old, who confessed to have dropped out of school in primary three, had a document addressed to him as Dr. Ndenojuo Obinna Franklin inviting him to an International Conference in Manchester.
NDLEA Airport Commander Alhaji Hamza Umar disclosed that preliminary findings by the agency showed that Franklin, who returned from Switzerland the previous year, had links with international drug cartels.
According to the fake doctor, who hails from Anambra State, it was frustration that led him into drug trafficking. But the ADLEA officials find his claim difficult to accept as he confessed to have invested over 2 million naira of his personal money in the illegal drug trade.
"This is my first time of dealing in illegal drugs and it is due to frustration. Since I returned from Switzerland in 2009 I could not get any job. In fact, I am not a doctor but they used it to prepare my travel document. I invested my life savings, about 2.5 million naira I made while working in Europe, in the trade. I feel so bad and I regret my action," he lamented. Ofoyeju said that the suspect will soon be charged in court.
—Simon Ateba
Load more