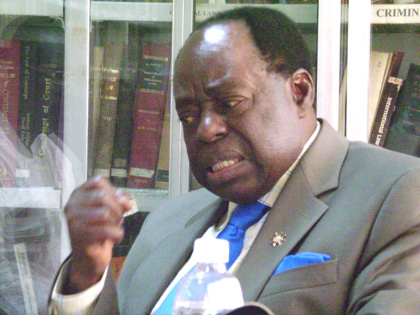 GBENRO ADESINA
IBADAN – The founder of Ado-Ekiti-based Afe Babalola University and Ibadan-based Emmanuel legal Chamber, Are Afe Babalola today showed his anger at the Oyo State 2nd Economic Summit held at Jogor Centre, Ibadan because he was addressed as a chief not as Are.
His words, "I have three regrets to have attended this gathering. First, in the programme, I was addressed as a chief. I have gone above chief. I am more than a chief. I was installed as Are Bamofin of Yorubaland by Alaafin of Oyo not by Elewi of Ado-Ekiti or Ooni of Ife. The day he made me Are, he made me to know that I am superior to any chief in Yorubaland and that I cannot and must not prostrate for any king in Yorubaland. Anyone that address me as a chief henceforth will be sued to court."
Speaking further, he registered his displeasure that the summit did not attract enough people, adding that the business people that were supposed to turn up for the summit did not.
He said that Oyo State is richly endowed with human and natural resources but confronted with the failure to exploit these resources, adding that no government in the world could single-handedly develop either a state or the country.
His words, "Gone were the days when government provided all the needs of society alone. The truth of the matter is that no government anywhere in the world can do that alone any longer. The trend across the globe today is to involve public spirited citizens and organizations in the infrastructure, socio-economic and educational developmental projects of government."
Delivering his address tagged "Imperatives and strategies for improving the competitiveness of sub-national economies in Nigeria", the founder of Lagos Business School/Pan African University, Pat Utomi said except true federalism is practised in Nigeria, revolution is imminent.
He advocated for regional police, judiciary that can give justice, change of value system, strong attention given to entrepreneurship and vocational studies.
He urged leaders to shift focus from paper qualifications to what an individual could contribute to the nation.
Utomi noted that except there is an avenue for all the states and region to compete for development just like what was the case during the period the nation was practicing regional government, the nation cannot develop economically.
The majority of those that attended the summit were journalists, civil servants and public servants. Governor Akala could not attend, though his deputy, Honourable Taofeek Arapaja, stood in for him

Load more